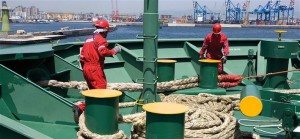 As the Legal Committee of the International Maritime Organisation (IMO) moves to keep under review the provision of financial security in case of neglect of seafarers, and shipowner's responsibilities regarding promised claims for personal injury to, or death of seafarers, experts believe its high time the regulatory bodies in Nigeria adopt welfare standards by IMO for seafarers.
They noted that while there are laid down standards for welfare, the regulatory bodies in the country do not keep to those rules thereby abandoning internationally approved best practices which leaves the seafarer unjustly treated.
Spokesperson for the Marine Professionals of Nigeria, Oluwasegun Akanbi, said the Nigerian seafarer is poorly treated and that the regulatory bodies are not helping matters.
"On welfare, the standard of welfare is determined by how much profit the ship-owner makes. The International Labour Organisation has a minimum welfare standard, but our regulatory body has yet to enforce it.," he said.
He noted, "Due to the nature of our job, we are exposed to several health challenges. An average seafarer dies of various ailments gotten from the working environment. The gas we inhale from petrochemicals, radiation from navigational equipment, salt spray on our skin, emotional trauma from situation of family, and so on."
Recently the acting Rector of the Maritime Academy of Nigeria, Oron, Mkpandiok Mkpandiok said that the state of seafarers in the country is nothing to cheer about.
Relating the fate of products of the school he noted "Most of the cadets, after their 2 years National Diploma in the academy are on the streets. They cannot make progress in their seafaring career because there is no berth on board a ship for them to do their 12 to 18 months training and without that aspect of the training, whatever they did in Oron is wasted and they go back to nursery school.
"This is the reason we are crying of dearth of maritime professionals in the industry because these people cannot go further or how will they qualify as seafarers," he declared.
IMO Secretary-General Kitack Lim recently welcomed the entry into force of new obligations under the Maritime Labour Convention (MLC 2006) which require ship-owners to have compulsory insurance to cover abandonment of seafarers, as well as claims for death or long-term disability of seafarers.
The 2014 amendments to the MLC 2006, which comes under the auspices of the International Labour Organization (ILO), are based on guidelines which were developed by a joint IMO/ILO working group, which reported to both IMO's Legal Committee and ILO's governing bodies.
"These amendments, which will provide better protection for seafarers and their families, are the fruit of successful collaboration between IMO and ILO to ensure better working conditions and better protection should things go wrong. I am very pleased to see these amendments enter into force for the Parties to MLC 2006, all of which are also IMO Member States," Lim said.
Copyright 2016 Ships & Ports Ltd. Permission to use quotations from this article is granted subject to appropriate credit given to www.shipsandports.com.ng as the source.