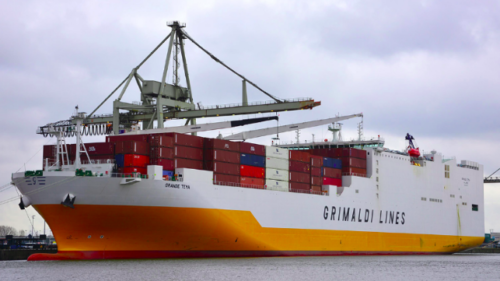 British police said on Friday that they were dealing with a "complex incident" on board a ship in the Thames Estuary in southeast England.
Paul Kyprianou, a spokesman for Grimaldi Lines, the owner of the ship, said four stowaways had been found on the vessel, which was coming from Nigeria, and that they were threatening the crew.
Essex Police said a call had been received Friday morning concerning the safety of the crew on board.
Police said there were no indications anyone on board had been harmed and that the incident was not being treated as a "hostage, piracy or terror related" event.
Police declined to provide details about who is on board.
The crew of the Grande Tema, a 71,000-tonne ship on its way to the UK from Nigeria, found four stowaways on board this week and locked them in a cabin.
But they broke out on Friday morning armed with iron bars and brandished them at the crew who had fed and looked after them.
The crew quickly locked themselves on the ship's bridge and sent out an alert to the coastguard in scenes reminiscent of 2013 blockbuster Captain Philips, in which Tom Hanks's character is confronted by pirates at his vessel's controls.
British police were deployed out to sea in the hope of taking back control after receiving the signal.
The vessel which set off from Lagos, Nigeria, on December 10, was sailing round in circles in the estuary as at press time.