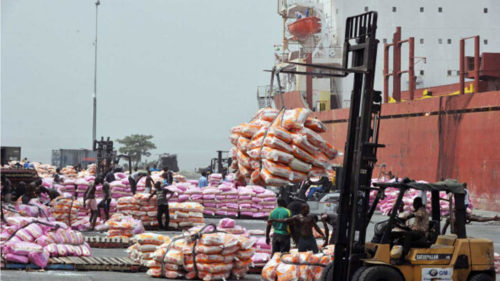 food-import
Nigeria's trade deficit ballooned by 92 percent between the first and second quarter of 2020 on the back of increased imports and not-enough exports.
According to the Foreign Trade in Goods Statistics report released by the National Bureau of Statistics on Wednesday, the trade deficit increased from N138.98 billion in the first quarter to N1.8 trillion in the second quarter.
This means that the country spent more on importing goods in the second quarter than it earned from exports.
In the first quarter of 2020, Nigeria's imports totalled N4.2 trillion while exports totalled N4.08 trillion.
In the second quarter of 2020, the value of Nigeria's total exports was N2.21 trillion while the value of total imports stood at N4.02 trillion.
The volume of total trade between the first and second quarter fell by 27.30 percent from N8.30 trillion to N6.24 trillion.
Energy goods imports recorded the highest increase in percentage terms, rising by 591.47 percent in Q2 compared to Q1, 2020 and increased by 129.78% on a year-on-year basis.
This was followed by the import of raw materials which increased by 85.69 percent compared to the first quarter.
According to the report, "Crude oil, Nigeria's dominant export, accounted for N2,944.6 billion representing 72.12 percent of total exports in Q1 2020. The value of crude oil export was 18.86 percent less than the value recorded in Q4 2019 and 12.80 percent lower than the value recorded in the corresponding quarter of 2019. Non-crude oil exports were valued at N1,138.3 billion representing 27.9 percent of total exports during the period under review.
"Imported agricultural goods rose in value by 59.01 percent in Q2 2020 compared to Q1 2020 and 66.28% compared to the corresponding quarter in 2019. Agricultural goods export dropped 38.2 percent in Q2 2020 compared to Q1 2020 but rose 6.3 percent year-on-year."
The report listed Nigeria's major import and trading partners as China, which accounted for 31 percent of total imports, United States, India, Netherlands and Germany. Spain received the highest percentage of Nigeria's export (14 percent).
Other major export trading partners were Netherlands, China, India and South Africa.
Copyright Ships & Ports Ltd. Permission to use quotations from this article is granted subject to appropriate credit given to www.shipsandports.com.ng as the source.