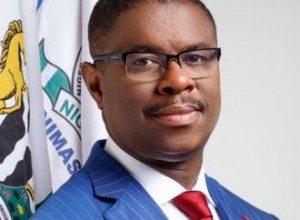 Despite the recessionary economic environment Nigeria recorded about 59.5 percent increase in vessel traffic at the various sea ports in 2016.
Director General of Nigerian Maritime Administration and Safety Agency, (NIMASA), Dakuku Peterside, who disclosed this in Lagos, yesterday, said that 370 vessels called at the ports across the country in 2016 as against 262 in 2015.
He also disclosed that the vessels in 2016 came with 420,000 Gross Registered Tonnage, GRT, a huge 80.1 per cent jump above 233,000 GRT recorded in 2015.
Peterside also said that a lot of progress has been made in the area of Cabotage implementation.
He added, "before the cabotage regime came into being, less than 12 per cent of Nigerians were on-board vessels operating in Nigerian waters, but today the figures have changed significantly as over 60 per cent of workers on-board vessels operating under the cabotage regime are now Nigerians.
"It may also interest you to note that before 2003, less than three per cent of vessels operating on our waters were flagged Nigerian.
However, today, we have over 60 per cent vessels doing business in Nigerian waters flying the Nigerian flag. Another good news about the cabotage regime is the fact that we have been able to achieve 20 per cent in building cabotage vessels from a completely foreign dominated era.
"Our aim is to target 100 per cent cabotage compliance in the nearest future.
The issue of the Cabotage Vessel Financing Fund is one we have taken a critical look at and I can categorically say that we are addressing the issues militating against the fund being fully operational and accessible."