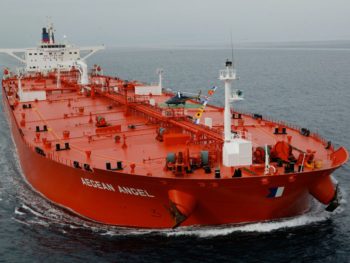 By Reuters 
Nigeria's push to keep its citizens stocked with fuel is drawing close to a million tonnes a month of gasoline from Europe – including now on a rare Suezmax vessel booked by Vitol.
The country is working overtime to replenish its tanks after shortages and queues popped up across the nation of more than 180 million in early December – sparking a scramble for state oil company NNPC.
The restocking comes as gasoline demand in other regions was waning in winter, and has helped boost fuel and refining margins in Europe just as the continent's refineries prepare to shut for seasonal maintenance.
The Vitol-booked, 115,000-tonne cargo aboard the newly built Sea Icon is sailing to West Africa from the Latvian port of Ventspils, according to Reuters ship tracking and trading sources.
It is expected to arrive around Feb. 22, when it will offload its cargo to smaller vessels that can more easily sail into Nigeria's ports, which cannot accommodate the unusually large, "clean" ship.
While newly built Suezmax vessels and even very large crude carriers load so-called clean fuels such as gasoline on their first journey with some regularity, most of these carry distillates from Asia, where most shipyards are located.
Vitol used another Suezmax, the Star Energy, to move gasoline along the same route in September, traders said. Typically the ships begin to carry lucrative "dirty" fuel cargoes such as crude oil after their maiden journey.
The cargo adds to roughly 1 million tonnes that are already booked to sail for Lagos alone from Europe this month, according to industry monitor Genscape. That followed a similar amount loading on that route in January, but compared with just under 500,000 tonnes in November, Genscape data showed.
Trade sources said nearly 1.7 million tonnes of gasoline arrived in West African ports in January from European and Baltic ports.
NNPC in December said it had more than doubled its daily supply to the country's drivers. It has in recent weeks leaned heavily on the companies that hold contracts to swap crude oil for products to step up their imports.
Vitol is among 10 pairings of traders and local partners that hold such swap contracts.
Citizens in the oil-rich country judge politicians harshly for any fuel shortages, and with gasoline prices capped by law, NNPC has imported the bulk of its gasoline over the past year.
Last month, NNPC cancelled a tender to buy more fuel after prices spiked on the spot market due to its issuance.  
Copyright Ships & Ports Ltd. Permission to use quotations from this article is granted subject to appropriate credit given to www.shipsandports.com.ng as the source.