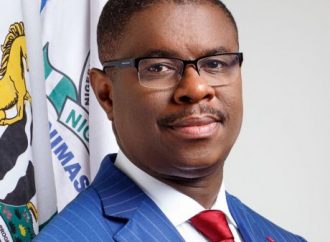 The Nigerian Maritime Administration and Safety Agency (NIMASA) has expressed its willingness to partner the Nigerian Heart Foundation (NHF) as part of its corporate social responsibility towards raising awareness on heart related diseases.
The Director-General of NIMASA, Dakuku Peterside, stated this on Thursday at a press briefing put together by the agency and NHF in preparation towards the 20th edition of NHF's Charity Golf Tournament scheduled to hold in Port Harcourt on September 1.
Peterside stated that health related diseases affect all gender irrespective of age and cut across all socio economic and geographic lines, hence the reason why the agency is partnering with the foundation to help save lives.
"NIMASA will be partnering with the NHF as part of our corporate social responsibility to focus on areas of the heart that we need to create awareness on so that people will be very much abreast of the dangers of not taking care of their heart. We are delighted to be working with the foundation in its drive towards raising this awareness on heart related diseases," Peterside was quoted by NIMASA spokesman, Isichei Osamgbi as saying.
The NIMASA boss said the agency has a mandate to achieve and sustain safe, secure shipping, cleaner oceans and enhanced maritime capacity in line with global best practices towards Nigeria's economic development.
The Executive Director of the Nigerian Heart Foundation, Dr. Kingsley Akinroye, said the foundation organizes the Charity Golf Tournament across the country to encourage participation in lifestyle activities, which is beneficial to the development of healthy hearts as well as prevention of cardiovascular disease.
He noted that heart disease is the most common cause of death among the adult population in Nigeria and other developing countries globally.
"In Nigeria, health disease now occupies the highest profile of people dying in the adult population. Most of the heart diseases are preventable because they are related to our lifestyle especially the food we eat and in terms of physical activities which we are now partnering with NIMASA because physical activity is very important to the heart.
"We have also discovered in the last few years that pollution affects the heart. So safe water is also part of the area we are looking at. We thank NIMASA for joining us in preaching to the population of Nigeria that we can prevent heart disease even by walking. Walking 30 minutes of exercise three times a week will reduce blood pressure. Most government executives are there sitting in their offices busy making policies and that is why we are encouraging them to play golf because golf is essentially walking. So we feel we can recruit more policy makers into this exercise," he said.
Akinroye, while calling for support from other government agencies, said the foundation in its bid to reduce and prevent cardiovascular related diseases in Nigeria, plans to raise N100 million from the charity tournament.