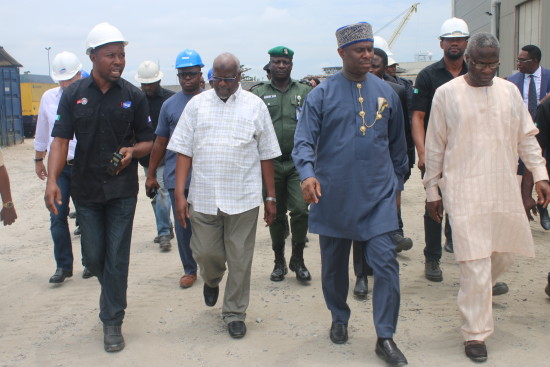 The Nigerian Maritime Administration and Safety Agency (NIMASA) is targeting to have a minimum of 90 per cent Nigerian vessels involved in the country's cabotage trade by 2017.
In line with the target, the agency is set to acquire fast-moving sea-going platforms in October this year for its three zonal operations to up enforcement in cabotage trading.
The director-general of the agency, Dakuku Peterside gave the assurance in Port Harcourt at the weekend during his maiden interaction with the staff of Port Harcourt Port office of NIMASA, as the agency's top management team continue its tour of offices and facilities in the zones nationwide.
NIMASA's zonal offices remain the backbone of the agency's operations enforcing most of its regulatory functions and generating up to 80 per cent of the agency's revenues. But most of them complained of inadequate empowerment to work more effectively, with the agencies lacking mobility vessels and vehicles.
Seeing their constraints and challenges, the NIMASA boss, who was hailed for exhibiting an excellent knowledge of the maritime and shipping industries in his short time of being in office, promised to address all the challenges of the zonal operations and empower the zones to initiate and finalise transactions in the next few months.
He said the management was working on leasing sea-going platforms from owners for the purpose of ensuring that enforcement of cabotage rules and other regulations in the country's coast are effectively carried out by the zonal formations.
He said, "Cabotage Act can become useful through enforcement. By next year we want minimum of 90 per cent Nigerian vessels involved in our cabotage trade. In the next few weeks, we will provide sea-going platforms for enforcement. By October, we will have platforms for enforcement in all zones. We will lease fast moving vessels from owners and use them ourselves.
"This is not same as the contract past NIMASA management had with Global West Vessels Specialist Limited. On this issue let me stress again that I have been misinterpreted and misquoted by the media. We are not replicating the Global West model.
"In the next few months, you (the zones) will be semi-autonomous. You will be able to raise debit notes. You will initiate and finalise transactions here (at their various zonal head offices). Zones will control their resources and there will measures for measurement of performance."
Responding to questions and comments at a stakeholders forum organised by the Eastern Operational Zone of NIMASA, Dakuku also maintained that the automation process which the agency had embarked upon would in the next few months make it possible for operators to make payments online in the convenience of the offices and obtain documents from online or zonal offices without having to come to the Apapa, Lagos headquarters of the agency.
Stakeholders at the forum raised various issues including illegal crewing and non-compliance to cabotage regulations in the area of local crewing by vessels.
A manning agent, Ugo Nwokolo said some foreign vessels come into the country's cabotage area with 100 per cent foreign crew feigning lack of knowledge of Nigeria's cabotage regime.
He said such vessels take advantage of lapses in cabotage enforcement, as no captain can claim not to know of cabotage rules which exist in all countries of the world.
He advised NIMASA to sensitise shipping lines on the country's cabotage regime and make it in a way that no vessel coming into
Nigeria can pretend not to know about her cabotage laws.
"As we are, we cannot send our (Nigerian) seafarers to Ghana, Angola, or any other African country because we know that they will not be welcomed. There is no room for them, but this is not same for Nigeria. Foreign citizens are brought into our waters and they are there midstream on mother vessels without any enforcement officer getting to them," Nwokolo said.
NIMASA's Director of Labour and Cabotage Services, Mrs Juliana Gunwa, however responded to him, saying the agency could not have recommended any of such vessels for waiver.
"We cannot recommend waiver for any ship operating on our cabotage area. It will be illegal for a ship operating on cabotage not to have Nigerian seafarers on-board," she said.
She charged stakeholders to report irregular developments by foreign vessels on cabotage areas so that the agency's enforcement officers can act on time.
Earlier at the Port Harcourt Port office, the NIMASA DG warned the staff against corruptible practices. He also assured workers of capacity development and training to improve on enforcement and other areas of duty.
"It should be clear to everyone that we have absolutely zero tolerance for corruption and compromise in enforcement. This will only be addressed with dismissal.
He noted that the agency had attracted more IMO training recently than in previous years.
"That tells the level of confidence reposed in us by IMO," he noted.
"We have developed training schedule in our medium term strategy and departments will benefit from the training. Every staff of
NIMASA will participate in one form of training or the other," he said.
Copyright 2016 Ships & Ports Ltd. Permission to use quotations from this article is granted subject to appropriate credit given to www.shipsandports.com.ng as the source.