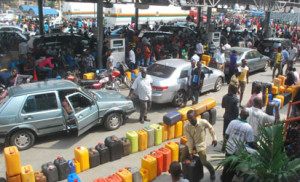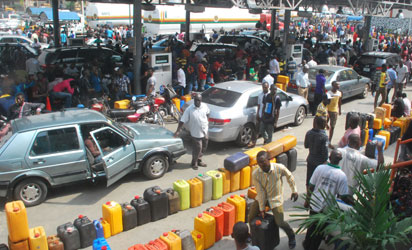 By Patience Danjuma 
The Nigerian National Petroleum Corporation (NNPC) has blamed the current petroleum scarcity in the country on marketers of the product. The Group Managing Director of the company, Maikanti Baru, in a statement by Ndu Ughamadu, the NNPC spokesman, also said part of the problem was the rumours about purported planned increase in the pump price of petrol.
He stated that some marketers, in their quest to cash in on the situation, suddenly started hoarding products.
"But we swiftly swung into action by doubling our supply nationwide. At the time the rumour started, we had about 30-day sufficiency.
"The normal daily supply to the nation is 700 trucks, equalling about 27-30 million litres per day," Baru said.
He assured that the corporation had doubled its daily supply of petrol, from daily 700 trucks (about 27 million – 30 million) litres per day supply to 80 million litres since the current hiccup in the supply chain was noticed a few days back.
He further assured Nigerians that the NNPC had enough products sufficiency that would last up to 30 days.
Baru, who expressed joy at PENGASSAN's call-off of its planned strike, urged motorists not to engage in panic buying as the corporation had more than enough products for domestic consumption.
Assuring that the fuel situation would fizzle out this week, Baru warned marketers against hoarding, stressing that any filling station found wanting in this regard would lose its entire products to motorists.
He commended NNPC's sister agencies, the Department of Petroleum Resources and Petroleum Products Pricing Regulatory Agency, for their support in helping NNPC tackle the menace of hoarding by filling stations.
Signing a Memorandum of Understanding between the Corporation and the Benue Government on the Agasha-Guma bio-fuels Projects, Baru said that at least a billion litres petrol-laden cargoes were expected by December.
He said the Bio-fuels Project would provide employment for the teeming youths in the state.
"I believe that Benue has what it takes to lead the country in the bio-fuels industry.
"I hope that your state will soon move from food basket to fuel basket of the nation," Baru noted.
The Agasha-Guma bio-fuels project aims at developing Integrated Sugarcane Plantation and Fuel-Ethanol/Sugar/Power Plant Complex in Benue through a Special Purpose Vehicle (SPV). 
Meanwhile, the NNPC has said it can account for every barrel of crude oil sold in the country.
The Group General Manager, Crude Oil Marketing Division of NNPC, Mele Kyari, disclosed this in Abuja on Thursday in a statement by Ughamadu.
According to Kyari, the state oil firm had achieved 98 percent automation of all transactions involving the supply, marketing and sale of the various grades and blends of Nigeria's crude oil across the world.
He said that the exercise, which would be concluded in 2018, had enabled the Corporation to achieve an end-to-end monitoring of every barrel of crude oil sold in the country.
"Today at a click of a button we can tell you how much crude oil is sold at what price, who bought it and where it has gone to etc," he said.
Kyari said that the projection was to operate a complete paperless crude oil data management regime in line with the ongoing transformation of the processes which had witnessed sweeping reforms since 2015.
The reforms include the open bid process of customer selection for lifting and purchase of Nigeria's crude oil grades, emplacement of efficient crude for product import processes leading to savings of $1 billion dollars in one year.
Other reforms include the introduction of improved pricing system, which has evolved into a robust pricing mechanism.
"The reform has led to the harmonisation of Nigeria's crude oil data and lifting information, providing access to major internationally-recognised reporting agencies like Plat and Argus Media to achieve real-time reporting of Nigeria's crude oil transactions.
"This development also enabled the country to eliminate the perennial disagreement with its major stakeholder, the Organisation of Petroleum Exporting Countries on actual production and lifting figures.
Kyari said that NNPC would continue to engage members of the public and other critical stakeholders to keep them abreast of innovations in the supply, marketing and sale of the various grades and blends of Nigeria's crude oil across the world. 
(Visited 71 times, 1 visits today)
We pay for your stories! Do you have a story for Ships & Ports? Email us at tips@shipsandports.com.ng or call 0810 359 4873. You can also WhatsApp us here. We pay for videos too. Click here to upload yours. 
Copyright Ships & Ports Ltd. Permission to use quotations from this article is granted subject to appropriate credit given to www.shipsandports.com.ng as the source.