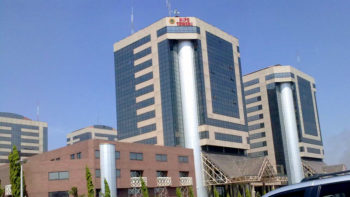 The Nigerian National Petroleum Corporation (NNPC) on Thursday confirmed the disengagement of officials linked with missing 130 million liters of petrol.
A high ranking source in the ministry, who did not wish to be named, made the confirmation to newsmen on Thursday in Abuja.
The source said: "a committee has submitted it's report and NNPC has recommended their disengagement".
The officials were linked to the missing petrol stored at private depots through a thoroughput arrangement.
Newsmen recall that Henry Ikem-Obih, a Chief Operating Officer (Downstream) in NNPC, had on March 17, revealed that about 130 million litres stored at the Capital Oil & Gas depot and over 30 million litres in MRS Limited depot, all in Apapa area of Lagos, were not found when needed.
Ikem-Obih had said the infraction by the two downstream companies was a clear violation of existing contract which prohibited the firms from tampering with the volumes in their custody without express permission of the corporation.
He said the companies were called to explain and given two options to either return the full volume of what was stored in their depots litre-for-litre or pay the full value of the products taken without approval.
He had also mentioned that NNPC alerted the Directorate of State Service (DSS), the Economic Financial Crime Commission (EFCC) and relevant committees of National Assembly with oversight function on the corporation's downstream operation to help recover the assets.
The officials were reported to have been sacked and later advised to resign, but are now officially disengaged from the services of the corporation.