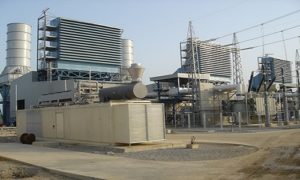 The Nigerian National Petroleum Corporation (NNPC) says it will generate about 4,000 megawatts of power in the next 10 years to boost power supply in the country.
The Corporation's Chief Operating Officer, Gas and Power,  Saidu Mohammed, made this known in a statement signed by NNPC Group General Manager, Public Affairs, Ndu Ughamadu, on Monday.
Mohammed said the corporation would achieve this by building independent power plants over the next three to 10 years.
He said that the power plants, which would be built with Joint Venture Companies, international power companies and Nigerian investors, would be structured after the Nigerian Liquefied Natural Gas business model.
"Power generation is a big business. As at today, NNPC has interest in two power plants, one in Okpai, Delta State and the other in Afam, Rivers State.
"Both were built by joint ventures with Nigerian Agip Oil Company and Shell Petroleum Development Company.
"These two power plants collectively generate up to 1,000 megawatts and they are the most reliable and cheapest source of power to the national grid in Nigeria today," Mohammed said.
Mohammed said in order to make up the 4,000 megawatts, plans were underway to build Okpai Phase 2, Obite and Agura power plants to boost power generation in the country.
He said that the corporation had commenced the extension of its major gas pipeline infrastructure on Ajaokuta-Abuja-Kaduna-Kano axis and other robust network to connect various parts of the country.
"The main base-loads to justify such infrastructure are power plants that would consume the gas and for that, we are planning to build about 2,000 to 3,100 megawatts, combined in these three cities.
"The partnership will involve players who will bring in their various capacities as operators, builders of power plants and as investors.
"NNPC will also bring its strength of being a dominant player in the Nigerian gas value chain," he said.
He said NNPC had developed capabilities in processing, transportation and marketing of gas for export and domestic utilisation, adding that the nation's gas resources could change Nigerian economy for the better.
"If you generate enough power, the multiplier effect will revive most of the moribund industries across the country.
"NNPC intends to capture 50 per cent of the gas market by growing the Nigerian Gas Marketing Company from the 500 million standard cubic feet/day of gas that it is today to about 3-4 billion standard cubic feet/day in the next 10 years,'' he said