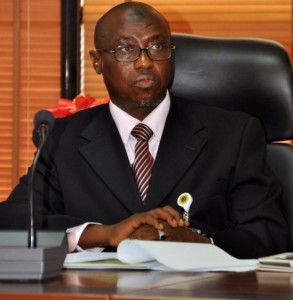 The Nigerian National Petroleum Corporation (NNPC) on Wednesday outlined a detailed proposal to help the National Assembly fine-tune its deliberation on the draft Petroleum Industry Governance and Industrial Framework law, PIGIF which is currently before it for legislative action.
In a presentation at the public hearing organized by the Joint Senate Committee on the Petroleum Industry Governance Bill, Group Managing Director of the NNPC, Maikanti Baru, said that though the Corporation is in support of the decision to present the Governance and Institutional Framework as a separate legislation from the Fiscal and Commercial Framework, the prevailing international and domestic business environment makes it imperative to undertake certain revisions to the 2015 Bill as proposed to align it with best international practices.
The NNPC GMD noted that to enhance transparency in the proposed Nigeria Petroleum Company, NPC, which is being mulled as the successor company of the NNPC, it should be mandated to publish annually a detailed report on all petroleum revenue payments made to government.
"This should include all royalties, rentals, fees, Petroleum Profit tax, corporate income tax, other taxes, bonuses, profit oil/gas shares from each of the licenses, leases and contracts," he said.
Other proposed changes listed by the Corporation include: More emphasis on a low cost, transparent and efficient administration, creating lower overhead costs for petroleum companies, institutional linkages with government decisions related to renewable resources, power generation, climate change policies and other policies affecting the petroleum industry through the roles of the Minister and the proposed National Petroleum Regulatory Commission, NPRC.
The NNPC is also seeking: a better definition of the roles of the Minister of Environment in relation to the Minister of Petroleum and the NPRC, increased institutional attention to the development and distribution of natural gas, clarity in Joint Venture, JV and Production Sharing Contract, PSC ownership of assets including the handling and sale and disposal of available production.
The NNPC wants the new law to ensure proper delineation of the responsibilities of the proposed new entities including the enactment of transition provisions for effective management of assets, re-enforcement of exploration and production from the frontier basins; much more emphasis on measures that reduce corruption and increased transparency among other items.
The NNPC however supports the creation of three entities as enshrined in the draft PIGIFB 2015 Bill. These entities are: the Nigerian Petroleum Regulatory Commission, NRC, as a regulatory entity for the entire petroleum industry(Upstream, midstream and downstream the Nigerian Petroleum Assets Management Company, NPAMC, as counter-part and administrator of production sharing agreements, and such other risk-based agreements as the Government may decide and the Nigerian Petroleum Company, NPC, as a vertically integrated oil and gas company operating as a fully commercial entity across the value chain that includes the current Joint Venture Operations, Nigerian Petroleum Development Company, NPDC operations, Frontier Exploration and other upstream/service activities, refinery and Petrochemicals, downstream activities as well as sale and disposal of crude oil and products.