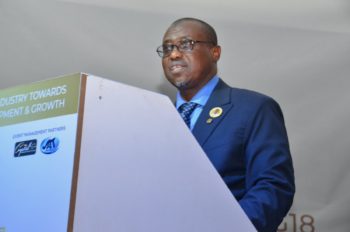 The Group Managing Director of Nigerian National Petroleum Corporation (NNPC), Dr Maikanti Baru, says the state oil company would increase the nation's crude oil reserves by one billion barrels yearly to attain 40 billion barrel by 2020.
Baru who stated this on Tuesday during his keynote address titled: "Driving Nigeria's oil and gas Industry towards Sustained Economic Development and Growth," at the ongoing 17th Nigerian Oil and Gas conference in Abuja, said NNPC was also working towards increasing daily oil production to three million barrels per day (bpd).
He said the corporation would also ensure that the Nigerian Petroleum Development Company (NPDC) grew its production to 500,000bpd of oil and 1.5Bscfd of gas by 2020.
"The journey has been quite challenging and exciting as well. We have journeyed through hills and valleys, through bumps and stumps; nonetheless, our resilience has ensured that NNPC continues to stand shoulder-high," he said.
Baru said the corporation's outlook for 2018 and beyond is to be in the capital market to raise more finance for new oil and gas projects.
He said funds raised would be used to finance projects such as the NNPC/NAOC JV Idu-redevelopment, South Gas Project, North Gas Project and Central Gas Project.
The others are: NNPC/TEPNG JV's Ikike Project, NNPC/SPDC JV Southern Swamp and Associated Gas Solution Step 2 Project amongst other new projects.
He said, "We intend to sanction the multibillion dollars Bonga South West/Aparo (BSWA) project as soon as we conclude an agreement on the Heads of Terms with SNEPCO on the various pending PSC Arbitration disputes.
"This will jump-start the resolution of all the other Production Sharing Contract (PSC Arbitration Disputes)."
Baru disclosed that in terms of gas production, the domestic demand for gas in Nigeria was unprecedented, with a current daily realistic gas demand of 4,000mmscfd.
He added that the figure was expected to grow to about to about 7,500mmscfd in the next five years.
Baru said, "However, within the next three years, with our Joint Venture partners, we are committed to increasing natural gas availability from the current 1.5bscf/d to about five billion standard cubic feet per day in 2020."
He said the government would supply enough gas to generate up to 15GW of electricity to the power sector by 2020 and stimulate gas-based industrialisation.