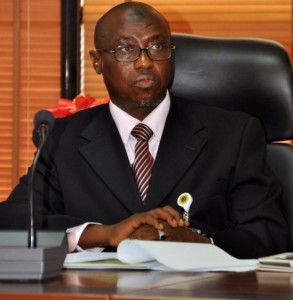 The Nigerian National Petroleum Corporation (NNPC) has warned unsuspecting buyers that it does not sell crude oil from hotel rooms.
In a statement on Sunday, NNPC spokesman, Ndu Ughamadu, said fraudsters lure their victims with higher discount offers on cargo, offers of non-OPEC crude specification, crude allocation, presentation of crude oil sale letters as well as conducting business from hotels.
He said NNPC only sells crude to buyers after it has advertised it and due process is followed.
"NNPC doesn't sell crude oil from hotel rooms as done by scammers," the statement read.
"Some of them even go to the extent of luring their victims to hotels to transact these fraudulent crude oil contracts. The entire public should know that NNPC doesn't do the business of crude oil marketing from hotel rooms.
"There are very high standards we have set and if you don't meet them, you cannot be our customer. And once you become our customer, we sign a single annual contract with you."
He added that crude contracts were typically 30,000 to 32,000 bpd, which accumulates into a standard cargo size of 950,000 barrels per month as against the three million barrel contracts peddled by the scammers.
The statement said for the crude oil sale processes to be completed, the customer has to show that he has the capability to sell the cargo to the market and that the corporation could get its money back.
"The entire process of crude oil marketing had become seamless and real-time with electronic platforms such as Platts and Argus acting as reporting agencies for global crude trading programmes.
"The beauty of selling crude oil is that the moment we sell the crude oil cargo to you, the entire world knows that cargo X is with Mr. Y. So you see, you don't have to scavenge for who buys your crude," the statement said.
It further said that fraudsters always cashed in on the buyers gullibility to swindle them.
The statement said those who fall for the scammers were either not in the business or were themselves fraudulent.
NNPC said it was collaborating with relevant security agencies such as the Nigerian Police Force (NPF), the Department of State Services (DSS) and the Economic and Financial Crimes Commission (EFCC) to apprehend the fraudsters.
Copyright Ships & Ports Ltd. Permission to use quotations from this article is granted subject to appropriate credit given to www.shipsandports.com.ng as the source.