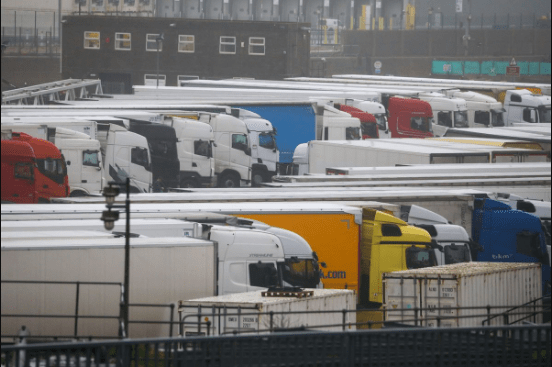 U.K. port snarl-ups would be exacerbated in a no-deal Brexit, shipping giant Hapag-Lloyd AG warned as vital ferry links to France remained closed for a second day amid concern about a new coronavirus strain.
While Prime Minister Boris Johnson's government is desperately trying to re-open the key truck-ferry route between France and Dover, the No. 1 entryway for sea containers at Felixstowe, east of London, is itself badly congested. That situation will likely worsen without a trade accord with the European Union by a Dec. 31 deadline, according to Hapag-Lloyd.
"If there's a no-deal Brexit there is going to be additional congestion and administrative troubles for the upcoming couple of months," Rolf Habben Jansen, the firm's chief executive officer, told Bloomberg Television. "Not so much because it's a no-deal Brexit, but mainly because there's a lot of unclarity about the rules that will then be in place."
Richard Ballantyne, who heads the British Ports Association, said in a separate interview he's hopeful that Dover, the country's busiest vehicle port, can be reopened to trucks.
"We would expect some kind of move from the French," Ballantyne said. "It's probably going to be a reinstatement of the exemptions for key workers such as freight drivers."
A deal could include rapid Covid-19 testing at the border, he said. "Lorry drivers are low risk," he said. "They spend a lot of time in their cab."
Officials are at odds over the type of test to use, people familiar with the talks said. The French side is pushing for hauliers to take PCR tests, which give a result in between 24 and 48 hours, while the U.K. prefers lateral tests that are less accurate but take only about 15 minutes.
Any new measures for truckers must be made clear, said Port of Dover CEO Doug Bannister. "We need to understand what protocols are going to be required to allow the drivers to get back to work," he told Bloomberg TV.
The backlog of cargo could be quickly cleared once France reopens its border, Bannister said citing a shutdown for security reasons in September that saw 4,500 trucks board ferries in just 12 hours.
Britain's Food and Drink Federation warned that an accord allowing consignments to begin moving again needs to be reached today to avoid shortages of some foods after Christmas.
"Roll-on, roll-off accompanied trucks is by far the preferred mode of transport for fresh food," CEO Ian Wright said in an emailed release. "We must also recognize the terrible toll being taken on UK food exporters. Lorry loads worth millions of pounds are being spoiled."
Hamburg-based Hapag's Habben Jansen said the extent of potential Brexit disruption is difficult to gauge, given that most containers are shipped from distant locations in Asia rather than on ships from Europe.
Shipping firms have struggled to cope with rampant demand as companies restock following lockdowns at a time when empty boxes are piled in the wrong places and trucking capacity is stretched.
Container rates will remain strong at least for the first quarter, he said, adding while he expected some easing of the market going into the second quarter, visibility that far out is low.