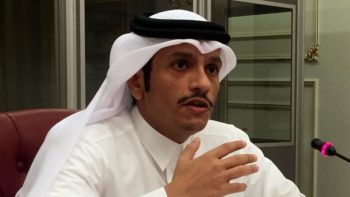 The Foreign Minister of Qatar Sheikh Mohammed bin Abdulrahman Al-Thani said that the Gulf crisis cannot be resolved unless the "siege" is lifted.
Speaking at a press conference on Monday, the Minister said that there can be no dialogue as countries that imposed restrictions on Qatar never gave specific expectations from the country that would lead to the resolving of the ongoing dispute.
"We can not expect an end to the crisis, solutions are not yet developed and the countries besieged Qatar have not provided any clear reasons for the steps they have taken," Al-Thani added. "We do not know these grounds why the three Gulf countries boycotted their relations with Qatar. Therefore, there are no steps regarding the crisis and no party has taken any steps."
He stressed that the solution must be primarily diplomatic and through dialogue and not through the blockade, but clarified that dialogue also requires lifting of the embargo.
According to the Minister, the countries that imposed restrictions are asking Qatar to meet demands that they did not put forward and did not present them directly to the Qatari side.
Regarding the Kuwaiti mediation to resolve the crisis, Al-Thani said that these efforts had started since the beginning of the crisis, adding that the Emir of Kuwait has not received any kind of response from the countries that imposed the embargo on Qatar so far on the matter.
The UAE, Saudi Arabia, Bahrain and Egypt cut diplomatic ties with Qatar on Monday, June 5. As a result, regional ports started shunning Qatari vessels, including those destined or originating from the country.
Other difficulties that emerged from the dispute include hampering of the purchase of Qatari crude and condensate, hindering of bunkering operations at major bunkering ports such as Fujairah and transshipment at local ports, along with difficulties related to crew. 
Copyright Ships & Ports Ltd. Permission to use quotations from this article is granted subject to appropriate credit given to www.shipsandports.com.ng as the source.