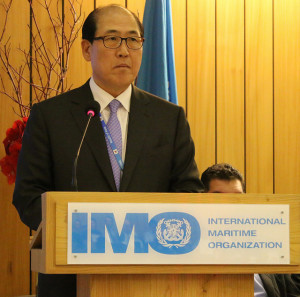 By Jite Eriabie 
Secretary-General of the International Maritime Organisation (IMO), Ki-Tack Lim, has underscored the organisation's commitment to enforcing the 0.5% sulphur cap on marine fuel from 2020, and in a warning for those hoping for a reprieve said "There is no turning back!"
Speaking at the opening of the fifth session of the Sub-Committee on Pollution Prevention and Response Lim said, "Undoubtedly, the most important item on your agenda this week is the consistent implementation of the 0.50% m/m global limit of the sulphur content of ships' fuel oil, which will come into effect from 1 January 2020. There is no turning back!"
Lim noted the large number of submissions related to consistent enforcement of the limit, indicating the importance of this to the industry, underscored by the recent joint statement by shipping and environmental organisations calling for a ban on ships carrying fuel of over 0.5% sulphur content from 2020.
"Consistent implementation to all ships will ensure a level playing field is maintained, with the result that the expected improvement of the environment and human health will be achieved," the IMO Secretary-General said.
"I am confident that the Sub-Committee, with the assistance of an intersessional meeting scheduled later this year, will, once again, rise to the challenge to ensure timely completion of this vital work."
Lim noted that consistent and successful implementation of the cap was important to the outside image of the IMO in its effectiveness in regulated matters related to environmental health.
While the enforcement of the cap is now less than two years away many owners have yet to decide how their operations will comply.  
Copyright Ships & Ports Ltd. Permission to use quotations from this article is granted subject to appropriate credit given to www.shipsandports.com.ng as the source.