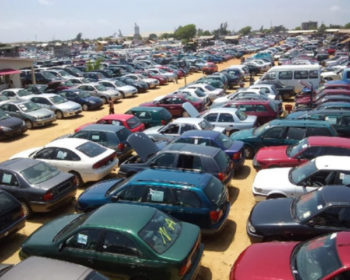 With the new electronic  Vehicle Identification Number (VIN), any vehicle on which duty has not been paid will not be able to be registered and driven in Nigeria, the federal government declared yesterday.
Speaking at the commencement of a workshop on the new registration platform, held at the Customs Command and Staff College, Gwagwalada, Abuja yesterday, the Minister of Finance, Kemi Adeosun, said the initiative aims to introduce technology to counter the activities of smugglers and boost revenue collections.
"We are introducing a new system where all vehicles will be registered using the Vehicle Identification Number (VIN), effective 31st March, 2017. Customs clearance will be linked to the VIN and this in turn will be required by each state government at the point of vehicle registration.
"We are using technology to make smuggling an unprofitable venture," the minister stated.
In attendance at the workshop were the Customs Comptroller General, Hameed Ibrahim Ali, Secretary of the Joint Tax Board, Muhammed Lawan Abubakar, Federal Road Safety Corps Marshal, Boboye Oyeyemi, and AIG Alkali Baba Usman, who represented the Inspector General of Police.
The minister stated that revenue would be increased by reduction in leakages through the nation's porous borders, adding that there would also be a reduction in import under-declaration and evasion of duty payments.
She explained further that the public would be advised to ensure that they obtained proof of customs duty payment when purchasing a vehicle to avoid being saddled with the liability of unpaid duties and related penalties.
The minister noted that Nigeria loses billions of Naira annually due to the activities of smugglers.
She described the VIN system as a "powerful tool against this illicit and dangerous practice, which sees stolen, accident wrecked and other unsafe vehicles brought into Nigeria.
"The objective is to ensure transparency and accountability in the collection of duties; a central system for tracking all vehicles coming into Nigeria independent of point of entry, shared database for all regulatory and enforcement agencies and requirements."
The Comptroller General of Customs Hameed Ali said 70 per cent of registered vehicles in Nigeria were not documented for duty payment.
The participants were drawn from the Nigeria Customs Service (NCS), the Federal Inland Revenue Services (FIRS), the Federal Road Safety Corps (FRSC), and the police as part of preparations to tackle vehicles smuggling and thefts following the implementation of the ban on vehicles importation through the land borders from January 1, 2017.