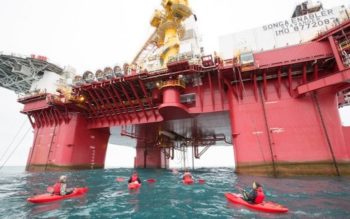 Norwegian authorities have detained Greenpeace vessel Arctic Sunrise after a protest at a Statoil contracted drilling rig at Norway's northernmost oil field in the Barents Sea, the environmental group said in a statement.
Greenpeace said the vessel and 35 activists were unlawfully detained after entering the exclusion zone of Statoil's Korpfjell well, halting drilling operations for the Songa Enabler semi-submersible. The ship, activists and crewmembers were all arrested by the Norwegian Coast Guard, the group said.
Greenpeace said it hopes the protest will send a message to the Norwegian government to stop oil drilling in the Arctic.
"Just 10 days before ratifying the Paris Agreement, in June 2016, the "environmentally friendly" Norwegian government granted new oil licenses. Now, a year later, Statoil has just started to drill for oil in the northernmost area ever licensed by Norway," the group said.
In 2017, Statoil had scheduled to explore five licenses in the Barents Sea, including the northermost Korpfjell well. Exploration drilling will take place in the period from May to September using the Songa Enabler, a floating, self-propelled rig purpose-built for cold climates and operated by Songa Offshore.
Earlier this summer, the Arctic Sunrise met up with the Songa Enabler at a well about 170 miles north of the Norwegian coast, in the Arctic Barents sea.
In 2013, the Arctic Sunrise along with 30 activists were arrested in Russia after attempting to climb an offshore oil rig in the Pechora Sea. In July, an international arbitration panel ordered Russia to pay the Netherlands nearly $6 million for seizing the Dutch-flagged vessel and detaining the activists.   
Copyright Ships & Ports Ltd. Permission to use quotations from this article is granted subject to appropriate credit given to www.shipsandports.com.ng as the source.