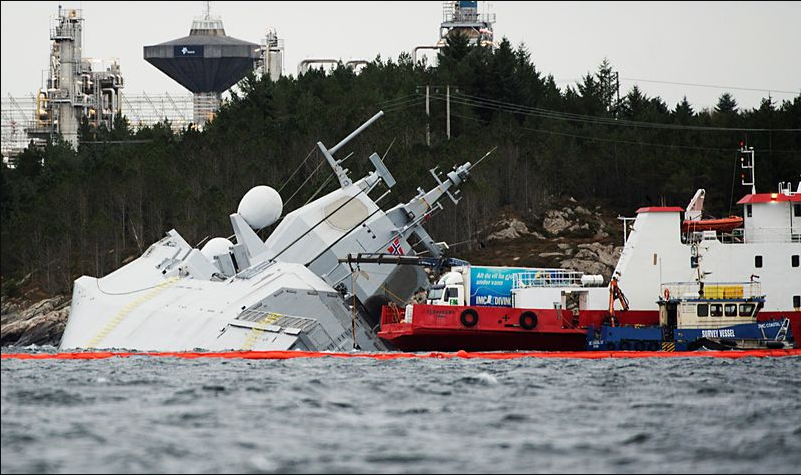 A Norwegian naval officer accused of negligence that led to the 2018 collision between a warship he commanded and an oil tanker in which the military vessel sank, is facing trial.
Building a replacement for the lost Helge Ingstad frigate would cost up to 13 billion crowns ($1.3 billion), the armed forces estimated in a 2019 report.
The early-morning crash between the Ingstad and the fully loaded Sola TS crude carrier near a major North Sea oil export terminal also triggered shutdowns of parts of Norway's petroleum production. There was no leak from the oil tanker.
Members of the 137-strong Ingstad crew described waking up in the middle of the night as water poured into their cabins and alarms went off as they tried in vain to save the ship, although they suffered only minor injuries.
The defendant was the officer in charge on the bridge of the Ingstad at the time.
"He did not display caution and did not take the precautions that safe navigation requires," prosecutor Magne Kvamme Sylta said in the charges.
Recordings of communication between the two vessels showed the slow-moving Sola several times asking the faster Ingstad to alter its course or face collision, but the request was declined by the navy ship, which feared getting too close to shore.
A commission investigating the collision later said the brightly lit Sola TS may have been difficult to distinguish from the nearby terminal from where it had set off, confusing the Ingstad crew.
A video recording from the tanker showed sparks flying as the two collided, tearing a gash in the side of the warship, which was later recycled as scrap metal. The tanker suffered only minor damage.
The collision exposed safety gaps in the Norwegian navy, including inadequate training and risk assessment systems.
The defence ministry later paid a fine of 10 million crowns.
Copyright Ships & Ports Ltd. Permission to use quotations from this article is granted subject to appropriate credit given to www.shipsandports.com.ng as the source.