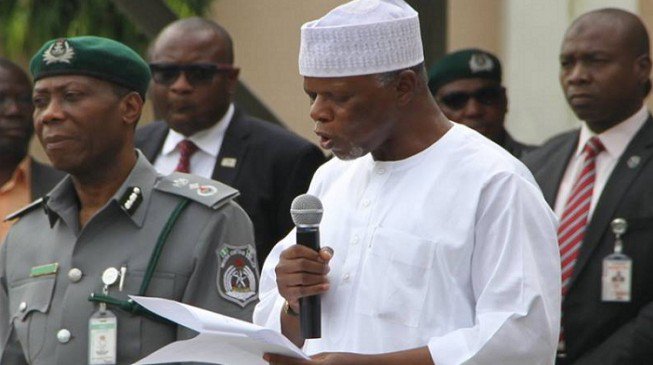 The Comptroller-General of Nigeria Customs Service (NCS), Hameed Ali, has said that he was not appointed to wear Customs uniform.
"I was not appointed Comptroller-General to wear uniform," he told TVC in an interview.
"Does uniform work or the person behind the uniform? If we suspect that smuggled items are taken into your own house, we have a right to cordon that house and search. Am I doing my job or not? I think that should worry the National Assembly," he said.
Since his appointment in September 2015, Ali has been carrying on his duties in civilian attire. He has also managed to serially incur the wrath of members of the National Assembly. Last month when he appeared before the senate committee on customs and excise duties, he was asked to explain the reason behind his refusal to wear uniform like his predecessors.
"Mr CG, this committee will like to know the reason why you are still in mufti close to two years after your appointment as the comptroller-general of Nigeria Custom Service," Obinna Ogba, a senator from Ebonyi central, had asked.
In his response, Ali said he does not wear Customs uniform because as a retired army officer it was against military tradition for him to wear the uniform of another organisation. After a question and answer session, Hope Uzodinma, chairman of the committee, had jocularly told Ali: "We are releasing you to go and sew your uniform."
However, the issue of uniform resurfaced at the red chamber on Thursday.
The senate had summoned Ali over the plan to set aside the directive of the lawmakers not to seize vehicles without paid duty.
Dino Melaye, senator representing Kogi west, who moved a motion on the issue, had insisted that Ali must appear in uniform.
"The senate will take a resolution and an agency of government will have the temerity, will have the guts, the strength to blatantly disregard the Nigerian senate. It is a very dark day for democracy," he had said
"I'm a member of the customs committee. I want to educate some of us, the position of CGC has a rank…. When he appeared before the committee, I asked why he does not wear uniform, and he said uniformed men don't wear uniform twice.
"I reminded him that Haladu Hananiya retired as a general but when he was appointed as the corps marshal of the FRSC, he proudly wore the uniform of FRSC.
"The senate has resolved that we invite the CGC to appear in plenary with his uniform to either justify or falsify this statement."
But Ali, who said he had not receive a formal invitation promised to appear before the lawamakers if the right thing was done.
"I am yet to receive formal invitation, if the proper procedures for official invitation to chief executives or government officials is followed, I will appear before the senate," he said.