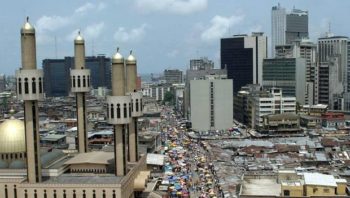 Some days ago, the National Bureau of Statistics (NBS) disclosed that the economy is growing. The figures released by the NBS show additional growth in the fourth quarter of 2017, the economy grew by 1.92%. The cheering news is the economy keeps growing steadily, ever since; Nigeria pulled herself up by her bootstraps out of recession in the second quarter of 2017. In the second quarter of 2017, "GDP grew by 0.55% (year-on-year) in real terms after five consecutive quarters of contraction since Q1 2016."
Another good news from the NBS report is that the GDP figures indicate the economy is growing in all key sectors,particularly,"the non-oil sector which had contracted" for some time. The improvement cuts across many sectors of the economy;agriculture, banking, manufacturing, communication, transport, insurance, and others.
This sustained growth implies that the overcast of pessimism is vanishing from Nigeria. People are becoming optimistic that the glory days of Nigeria are not consigned to the past, but are dawning. The future does not look calamitous anymore.   The renewal of hope is good for the economy. Hope precipitates all types of investments and productive economic activities.
However, it is important for us to pause and ponder. Hope must not undermine our capacity to reflect critically and objectively. The big question of the moment is can the economy continue to grow? Can the growth rate get better? Can the growth become more inclusive? Put differently, is it possible for Nigeria to be like the ever lush, ever fruitful proverbial tree planted by the riverside?
Can we invalidate the forecast of World Poverty Clock of the World Bank by not becoming the poverty capital of the World by the end of this year? Is it possible for the 112million Nigerians living below poverty line to forever live above the precarity and vagaries of declining growth, increasing unemployment, galloping inflation, worsening balance of payments, debilitating debt burden and increasing unsustainable fiscal deficits?
The voice of hope says yes. It says; it is possible for Nigeria to thrive and transcend precarious existence characterized by unpredictability, job insecurity, poor state of material wellbeing and psychological welfare. It is important to buttress the fact that these cannot happen by accident or overnight. They require foresight, economic prudence, technological innovation and much more.
For the economy to keep growing there are things we should do immediately. First, the budget impasse should be resolved forthwith. It is anti-economic growth to play politics with the budget. Whatever differences exist between the Executive and the National Assembly should be shoved aside in order to secure the greater good. The early passage of the budget is good for all. It is good for 112million Nigerians that live below the poverty line.
Second, when the budget is passed the processes of cash backing should be accelerated with a view to ensure satisfactory execution of capital projects. We should not repeat the mistakes of previous years, when cash are released at the twilight of the year for implantation of projects. Such untimely releases incentivize corruption.  If we cannot meticulously execute our 2018 Capital Votes Plan our hope for sustained economic growth may become barren.
For the Nigeria's economy to remain on the path of impressive growth, we need to pay attentions to some fundamentals of economic development.  In this wise, the centrality of development plan to sustainable national development cannot be overstated. One reason why we have failed to diversify our national stream of income, renew our critical national infrastructure, and provide adequate power that will drive industrialization is that we lack robust and doable development plan. Contrary to factsand history, we tend to believe there is something magical and transformative about ad hocism.
Hence, we are yet to inculcate the science of data-driven planning, and forecasting. Closely associated with ad hocismis short termism. It is the combination of both that has led us into adopting fire brigade approach to national development. Many of our leaders are mostly reactionary short-termist. They cannot think ahead. They cannot plan for the future of the unborn Nigerian. Recall, some decades ago, a certain frontline military leader in the spirit of triumphalism said; "Nigeria's problem is not money, but how to spend it." Sadly, the factuality of his claim seems indisputable to me. Everyone knows that it is tough to spend money wisely without a plan.
Corruption, which is a critical growth retardant, is malignantly widespread in Nigeria. This is because we do not know how to spend public money to secure the common good and safeguard the welfare of posterity.  There is no way Nigeria will experience inclusive and sustainable economy development, if we do not create economic firewalls. The fact that the former Chief of Army Staff Gen. Kenneth Minimah (retd) could allegedly loot and refund about N1.7billion to the Economic and Financial Crimes Commission (EFCC) means that Nigeria is a paradise of parasites.  Parasites are not agents of growth.
We must not forget that culture is one of the fundamentals of economic growth. Culture in this context includes religion, values, ethics,   preferences that aid the emergence of strong institutions. As far back as 1930, Max Weber traced the origins of industrialization in the global west to culture. He specifically attributed it to the Protestant reformation and the ascent of Calvinism. The Protestant reformation created a value system, belief system that stimulated widespread thrift, hard work, prudence, and capital accumulation.
Similarly, in recent times, some scholars have attributed the phenomenal economic miracle of the Asian Tigers to culture; even though, the role of culture in economic development is not readily measurable. The point to note is, Nigeria cannot rise above the evils of corruption and develop astronomically, if we do not create a culture that encourages cooperation, social capital, and demonizes illicitly acquired wealth. We should glean wisdom in this wise from the contrast that exist between Southern Italy and Northern Italy. More importantly, we need to revive a culture of shame. In a shame culture, Gen. Kenneth Minimah would consider suicide a better fate than senseless looting.
Another fundamental of economic development is institution. Strong institutions are human construct that exert enormous influence on human behavior. Gen. Kenneth Minimah alleged corrupt act questions the integrity and strength of the military institution in Nigeria.
Now that our economy is growing we should build institutions that support factor accumulation. If our institutions do not encourage the increase of the four factors that drive economic production of goods and service we cannot grow sustainably.
Since, economic growth consists of increasing the quantity of the economy's resources, and increasing their quality, the imperatives of innovations cannot be overstated. Our institutions must make the mantra "innovate or die" the guiding principle of their actions.
In conclusion, we need institutions that fuel the spirit of creative destruction. I mean Joseph Schumpeter's concept of creativedestruction as articulated in his seminar work "Capitalism, Socialism and Democracy", published in 1942. He conceptualized it as: "process of industrial mutation that incessantly revolutionizes the economic structure from within, incessantly destroying the old one, incessantly creating a new one."
We pay for your stories! Do you have a story for Ships & Ports? Email us at [email protected] or call 0810 359 4873. You can also WhatsApp us here. We pay for videos too.

 

Copyright Ships & Ports Ltd. Permission to use quotations from this article is granted subject to appropriate credit given to www.shipsandports.com.ng as the source.