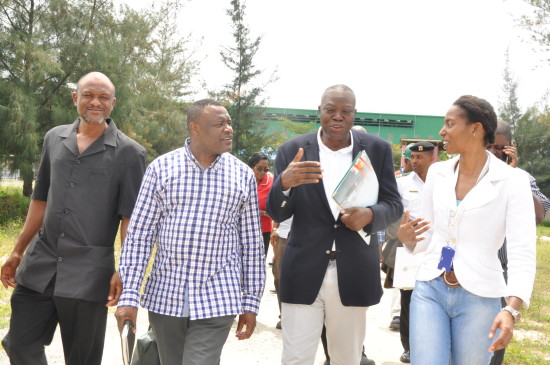 The Lagos Deep Offshore Logistics base (LADOL) has been described as an organization that is foremost to current efforts by the Federal Government in checking the lingering foreign exchange challenges currently facing the country.
The assertion was made in Lagos on Friday by members of the board of directors of the Nigerian Ports Authority (NPA), when the team made a tour of the Apapa port-based logistic service provider, on facility assessment.
LADOL base, a 100 percent indigenous owned facility is currently playing host to the first-of-its-kind integration of a $3.8 billion Floating Production Storage and Offloading (FPSO) oil platform, otherwise known as Egina project.
The visiting team, which comprised the board members and accompanied by seven General Managers of NPA were received in audience by the Managing Director of the logistics base, Dr. Amy Jadesmi.
The board members on the visit included its Chairman, Eng Emmanuel Adesoye Olajide, Alhaji Shuaib Umar, Mrs Onwuchegha Constance Harry-Marshal and Emukowhate
Describing LADOL as a huge investment that is generating job opportunities as well as revenue base for the economy, one of the NPA Directors, Emukowhate Charles, said the organization is vital to government's current efforts to check the lingering scarcity of foreign exchange that has hit the country.
According to him, "I am greatly impressed by what I have seen here which shows that there is hope for the country…the fact that you have a facility here that is the only one of such in Africa, and a foreign exchange-earner, it makes it a win-win situation and a seller for the President.
"The President needs people and organizations that can generate forex at this critical time…and you are one of them, hence we must make sure that what we have seen here goes directly to the table of Mr. President", he said.
Earlier in his remark, Chairman of the board, Emmanuel Adesoye Olajide, who described LADOL as a unique organization, assured that the board would do all that was necessary in order to ensure a level playing field for all operators in the industry to strive.
The chairman, who was responding to earlier calls by the LADOL boss, Dr Jadesimi, that only a healthy competition in a level playing field would guarantee efficiency of service delivery in the industry pointed out that NPA was concerned about reducing costs hence it would convene a stakeholders' dialogue to address all the lingering issues.
"What you are doing here is huge and you a changing the games…so you can't do that without a fight. But that is where resilience comes in…and this is where we as the board come in to ensure a level-playing field where everybody can co-exist.
"As NPA, we are much concerned about the need to reduce cost in order to attract more foreign investors into the system such that can impact on the revenue of NPA and the Federal Government", he said.
In her presentation, Jadesimi noted that aside from being the only indigenous service provider in the sector, LADOL also boast of being the only logistics service provider in the oil and gas sector that currently operates the most modern blasting and painting technology in Africa.
"As a fact, we also parade other main distinguishing factors such as our unique quay wall and draft capacity of 500 meters that can handle a 35 tons entity. There is currently no dry dock facility in Africa to handle an FPSO vessel, except LADOL" she said.
Throwing more light on the evolution of the Egina FPSO project at the base which is a contract awarded by TOTAL oil company, Dr. Jadesimi said the multinational oil company takes the issue of safety for the world class facility very seriously hence "together with TOTAL and Samsung Heavy Industries, we undertook five different simulations to show that the vessel can safely come in to Nigeria and can berth at LADOL.
"TOTAL had once considered the idea of hosting it at Port Harcourt, but it was considered too risky. Bringing the FPSO down through the Bonny Channels was simply considered too risky, but easily achievable in taking it into Lagos. So I can assure you that our quay walls not only distinguishes us here in Nigeria, but first of its kind in West Africa. They tried it in Angola, but the company refused because the risk is too much.
"We similarly boast of our cranes capacity as another distinguishing factor of LADOL. We have 75,000 tons cranes that are second highest in the world, just as we also have other moving smaller ones of between 500 and 1,300 tonnages that are equally unique" she said.
The LADOL boss therefore called on the NPA board to intensify more efforts at  creating more awareness, particularly within the stakeholders' as well as promote stakeholders' collaboration in the overall interest of the nation's economy.
"We want more companies like Nigerdock to flourish…we need more of stakeholders' collaboration by sitting at a round table to engaged in healthy collaboration and stop wrangling' she added.
Copyright Ships & Ports Ltd. Permission to use quotations from this article is granted subject to appropriate credit given to www.shipsandports.com.ng as the source.