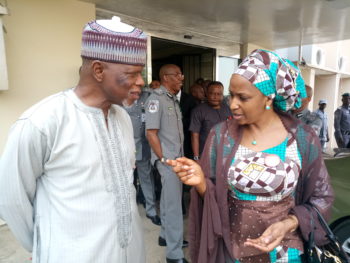 To promote trade, the Nigerian Ports Authority (NPA) and the Nigerian Customs Service (NCS) are collaborating to introduce the much-awaited Single Window (SW) platform at the ports.
According to the Managing Director of NPA, Hadiza Balla Usman, the two agencies have embarked on the establishment of SW through an intense automation and introduction of Standard Operative Procedure (SOP) at the port.
Usman said the adoption of Single Window would make Nigerian ports competitive in the international trade network and boost trade facilitation programme of the government.
Speaking during her courtesy visit to the Comptroller General of Customs, Hameed Ali in Abuja yesterday, Usman said the synergy on Single Window would boost government revenue and promote public private partnership through the attraction of local and foreign direct investment.
She said government was aware of its responsibilities to create enabling business environment for businesses to thrive.
She said the Federal Government was determined to make the ports efficient, safe, secure and productive.
Usman said NPA and Customs are the two key agencies driving the logistic and financial portals on behalf of the government and that the duo have the responsibility of working together to build a common industry culture around the ports to achieving the right level in trade facilitation.
She said, "The goal of trade facilitation is to help trade across borders, import and export faster, cheaper and more predictably while ensuring its safety and security.
"Trade facilitation focuses on simplifying and harmonizing formalities, procedures and the related exchange of information and documents between the various partners in a supply chain."
She said transparency, simplification, harmonization and standardisation of port operations will only be achieved by embarking on the establishment of a well articulated single window system.
"I would therefore urge us not to lose track as well as relentless commitment as to meet the target of Nigeria joining 20 other countries to be in the forefront of implementing an efficient, effective and sustainable single window in 2020, " she said.
In his response, Customs Comptroller General Hameed Ali said Usman's visit would lead to regular meetings and constant consultation between the two agencies.
He said the Nigeria Customs Service would "do everything possible" in promoting the trade facilitation programme of government through collaboration with sister agencies and through robust initiatives to promote business at ports.
Ali also promised to collaborate with NPA to rejuvenate port operation and port security committees and ensure that the committees' meetings are attended by senior Customs officers.
Copyright Ships & Ports Ltd. Permission to use quotations from this article is granted subject to appropriate credit given to www.shipsandports.com.ng as the source.