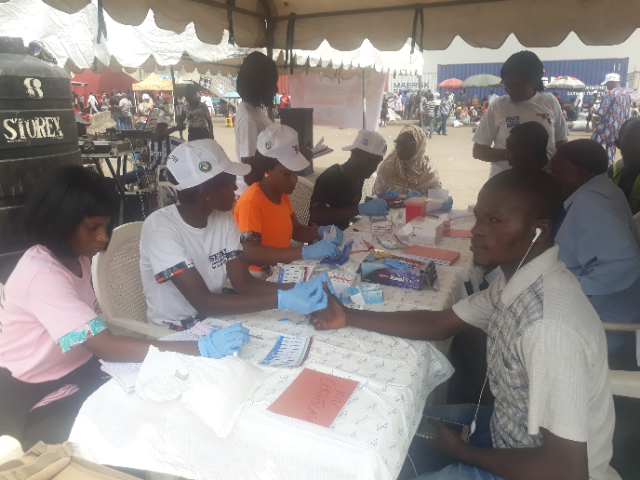 The Nigerian Port Authority (NPA) in collaboration with the Abidjan Lagos Corridor Trade and Transport Facilitation Project (ALCO) said it is working towards achieving a zero percent HIV/AIDS incidence among port users and transport workers.
Speaking at the NPA HIV/AIDS sensitization campaign which held at the Tin Can Island Port on Monday, Chairperson of the Committee, Dr. Comfort Datong said results achieved so far since the project started in 2012 within the Tin can Island and Lagos Port Complex, Apapa, has superseded ALCO's target of 83 percent in 2013.
She said truckers' familiar with at least two means of HIV/AIDS prevention have increased as according to her, many of them are now willing to turn in for the test to know their status.
Dr. Datong who said she is impressed with the level of compliance from truckers said the campaign tagged 'My life, my right' is aimed at getting to zero HIV incidence and it is expected to last for a period of four months.
"We have surpassed the target but we want to sustain the level which we have achieved. We are getting to HIV zero percent incidences, so let's end it now. That is why we are here and were calling on people, let's end it now.
"They (truckers) are even more willing and ready to have their test every six months. We are no longer begging them to come now. We don't have condoms but they are still coming for the tests, because they want to know their status, so the response is impressive," she said.
She added that those who tested positive to HIV virus have been sent to various designated hospitals including the Lagos University Teaching Hospital where they are receiving treatment.
The Abidjan Lagos Corridor Trade and Transport Facilitation Project which started in 2010 was introduced among the corridor countries to increase access to HIV prevention, basic treatment, support and care services for vulnerable groups, with particular attention to transport workers, migrants, sex workers, customs and immigration officials, and the local population living and working along the trade corridor especially at the border towns.