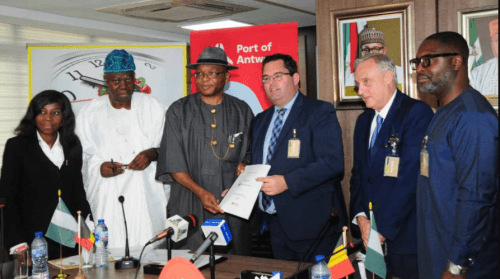 The Nigerian Ports Authority (NPA) and the Port of Antwerp Belgium have signed a Memorandum of Understanding (MoU) towards operational efficiency in line with the desire to deepen the mutual beneficial relationship existing between the two ports. 
NPA Managaing Director, Hadiza Bala Usman, who was represented by the Executive Director Marine and Operations, Sokonte Davies, when the Belgian delegation visited NPA headquarters, Marina, Lagos on Wednesday, said the MoU will help boost efficiency through the digitization of operations at the port.
He said the MoU covers infrastructure, stimulation of trade growth as well as concretizing an enabling environment for public private partnership to thrive.
Chairman, Board of Directors of the NPA, Emmanuel Olajide Adesoye, said the industry expectation is that the two organisations would leverage on each other's expertise for growth in trade, which would result in global economic development for Nigeria and Belgium. 
Also speaking, the President, Port Of Antwerp, Said Annick De Rider, said, "West Africa takes a large share in the traffic of Port of Antwerp. It is therefore our ambition to further strengthen our position in West Africa. 
"We aim to pass our know-how and experience. We hope that this mission will create new fruitful contacts, new connections and new business opportunities in order to ensure future growth for years to come." 
The Ports of Antwerp is the second largest Port in Europe.