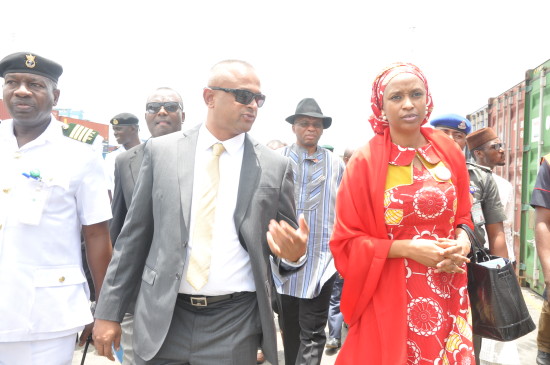 Managing Director of the Nigerian Ports Authority (NPA), Hadiza Usman has emphasized the need to move cargo in and out of the port by rail so as to lessen pressure on the road.
Usman made the disclosure at her maiden visit to the Lagos Port Complex, Apapa on familiarisation tour.
She said that because of the exigency of the times, the NPA will work with the Nigerian Railway Corporation (NRC) to facilitate this by ensuring that the tracks are in place and provision made for rolling stock.
This disclosure is coming on the heels of several calls by stakeholders for shift from emphasis on road haulage to intermodal transport especially as access road to Lagos and other ports are highly dilapidated.
At ENL Consortium and Apapa Bulk Terminal Ltd, Usman tried to find out how they've been able to make use of rail to move cargo.
Mark Walsh, Executive Director Operations of ENL explained that the use of the rails has not been very popular with port users, but since the terminal started making use of it, others have seen the need.
Usman encouraged port users to adjust to more frequent use of the rail, urging them to get across to NPA concerning any challenge in this regard which will be sorted out with the Nigerian Railway Corporation.
The visit to Apapa Port is the second after Calabar Port which she inspected in the second week of August.
The visit to Apapa took her to Western Port, APM Terminals, GDNL Terminal, Eko Support Services, ENL Consortium, Apapa Bulk Terminal and Lilypond Container Terminal now known as Tin Can 2.
At Lilypond Terminal, some clearing agents were seen carrying placards requesting that the terminal be revived as it has remained dry for some time.
The NPA MD told them to articulate their problems and send to her.
The NPA MD also inspected the road construction at the foot of Ijora Bridge by Leventis. Emphasising the importance of the bridge for the movement of cargo out of the port, Usman said she will get in touch with the Minister of Works, Power and Housing to ensure that construction work on the bridge is fast-tracked.
She emphasised the need for cooperation with the Nigeria Customs Service for faster movement of cargo.
Also on the current diversification programme of the government Usman said that the NPA will do everything possible to encourage export so as to earn more revenue to boost the economy of the country.
Copyright Ships & Ports Ltd. Permission to use quotations from this article is granted subject to appropriate credit given to www.shipsandports.com.ng as the source.