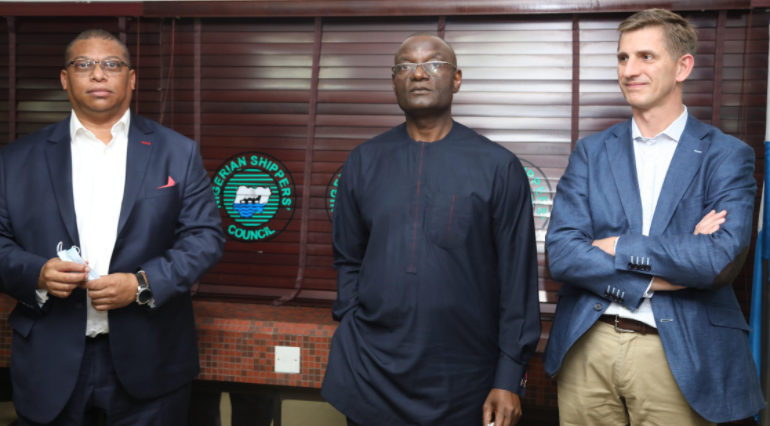 The Executive Secretary, Nigerian Shippers' Council (NSC), Emmanuel Jime, has joined other maritime stakeholders to express concerns about the mode of evacuation of cargo from the Lekki port, Lagos. 
The port is expected to commence operation by the end of this year. Many stakeholders and commuters have, however, expressed worries that since the port is not connected to the rail line, cargo evacuation from the new facility will be by road, which will create huge gridlock on the narrow and already congested Lekki-Epe Expressway. 
Speaking when he received officials of the Lekki Freeport Terminal at the NSC Headquarters in Apapa, Lagos on Tuesday, Jime said, "We don't want to replicate Apapa. Everybody believes we shouldn't be moving in that direction. What are the things that needed to be in place? For now, the only mode of moving cargoes is the road that connects to the port. And if the road is the only mode, then we are heading to replication." 
He charged the promoters and operators of the port to ensure that other modes of transportation of cargo in and out of the port are developed before the facility opens for operation.
"… but just to be clear; unless we have a rail network into that port, coupled with the barges, we are definitely going to have a situation where we will replicate what is obtainable in Apapa which I don't think anybody would be happy about," Jime told his guests. 
Chief Executive Officer, Lekki Free Port Terminal, Denrick Moos, appealed to the NSC to help address the cargo evacuation issue so that another Apapa-type gridlock is not created on the Lekki-Epe Expressway. 
"Our challenge is the evacuation of the cargoes. So, we need a proactive approach to make sure that we evacuate seamlessly, cargoes that would be imported into the country and to avoid added cost, which is sometimes prompted by the waiting time. And the solution is to construct a rail network that would link the port," he said. 
Moos said that the container terminal at the new port will be operated by his company and "is expected to start full operation by March 2023 latest". 
Copyright Ships & Ports Ltd. Permission to use quotations from this article is granted subject to appropriate credit given to www.shipsandports.com.ng as the source.