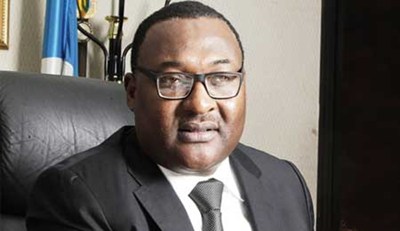 The Executive Secretary of Nigerian Shippers' Council (NSC), Hassan Bello has expressed concerns over high insurance premium tagged 'war risk insurance' slammed on Nigeria-bound ships by foreign insurance companies to insure ships against attacks in the nation's Niger Delta region and the larger Gulf of Guinea area.
Speaking on Thursday when he received the Director-General of the Nigerian Maritime Administration and Safety Agency (NIMASA), Dakuku Peterside who paid a courtesy visit to the Council, Bello said there is need for collaboration between the NSC and NIMASA to tackle the problem and ensure that such charges are removed from Nigerian-bound vessels.
He said, "Our concern is the surcharges on war risk insurance clause on Nigerian cargo because of piracy. We need to collaborate on that. Because of the issue of security in the Gulf of Guinea and because of apprehension, insurance companies usually levy cargo coming to Nigeria as war zone but it is not really true because you can see that the incidence of piracy and arm robbery has reduced drastically. NIMASA and the Nigerian Shippers' Council will find ways to tackle that and ensure that such surcharges are removed from our cargo."
Bello also charged the NIMASA DG to resolve alleged cases of double taxation in environmental levies slammed on the maritime community by the agency and the Nigerian Ports Authority (NPA).
He also called for collaboration and synergy among agencies and stakeholders in the maritime sector to utilize and support the growth of the country's blue economy.
"Shipping is making direct impact on the economy of nations and Nigeria cannot be an exception. We have the lakes, rivers even our creeks and other masses of body of waters in Nigeria. It is not that we do not have these bodies of waters but how do we utilize them?
"NIMASA being the apex regulatory body as far as safety and security of our marine is concerned. It is heading the quest for us to utilize the marine economy. There must be commitment and synergy among the operating agencies. That is what is needed," he said.
Responding, Peterside disclosed that the Minister of Transportation, Rotimi Amaechi has initiated plans to create a national policy on blue economy as part of effort to ensure that Nigeria maximises potentials in the maritime sector.
He lamented that Africa remained underdeveloped despite its numerous geographical advantages as well as other natural resources in the region adding that the continent's inability to unlock the inherent potentials in the seas and oceans was responsible for its stifled economic growth over the years.
Dakuku noted that climate vulnerability, poor infrastructure, terrorism and legislative vacuum were the challenges militating against development of Africa's blue economy.
He said, "There is a relationship between the seas and oceans and wealth creation. The problem with Africa is that it still relies on natural resources to a large extent but the top 10 countries in terms of rapid economic growth are actively involved in the blue economy. 38 out of 54 African countries are either coastal states or Islands and 90% of Africa's import and export are carried out via the seas."