The Nigerian Seafarers Development Programme (NSDP) is a programme created by the Nigerian Maritime Administration and Safety Agency (NIMASA) to address the dearth of trained and certified seafarers in the Nigerian maritime industry. So far, more than 2,000 Nigerians have been trained under the NSDP since its commencement in 2008. Some of the beneficiaries of the prorgamme shared their experiences and journey towards becoming seafarers with SHIPS & PORTS' Tosin Aribisala.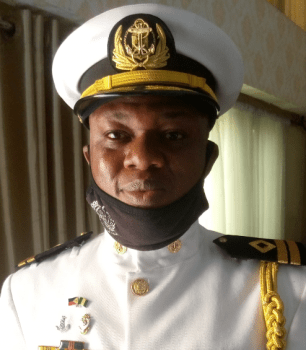 The experience so far has been challenging and sweet. This is because we started in 2013 and for some of us, we spent eight years on a program that was supposed to take us four and half years, maximum. However, despite all these, I'm glad today because the Nigerian Maritime Administration and Safety Agency (NIMASA) are sending another set of cadets that would be going for their training, and with the look of things, NIMASA is trying to get it right this time by sending them to places like Greece and India. So where they are going like Greece has the largest fleet in the world. One of the major reasons why my set was delayed was because of a lack of vessels to use for sea service, which is like an internship. It is a one-year mandatory internship for each cadet. They must undergo that internship before they become officers. So, after my three years of education in the Philippines, it was difficult to get vessel for my sea time experience; that was one of the reasons why the program was delayed. Some of my friends are still at home waiting to be called up for their sea time experience. But in the case of this new set, since they are sending some of them to Greece, I doubt if they would have challenges because in Greece, they have a lot of ships and they would have discussed all these issues with the school and the management of the school to ensure the program moves seamlessly towards their Certification of Competency. So, I'm glad they are getting it right now and it does not just end there. My advice is, after this, they should ensure that having got their Certificate of Competency, they should try as much as they can to assist them with the right policies like talking to the companies to be able to absorb these people. As we speak, there are still foreigners on Nigerian ships or working on Nigerian waters and yet we have cabotage law which is supposed to assist Nigerians to work onboard. But unfortunately, it is like the cabotage law has not taken full effect. So, because of this, many of us are home; we are yet to get a job despite our Certificate of Competency. And it is stressful for us because after getting your Certificate of Competency, it expires after five years and it is very expensive. For us that have gotten it, we are glad that NIMASA sponsored us all through to this stage. Let's now imagine those that ran this course on their own, definitely they would have spent millions of dollars to achieve this. So, NIMASA has spent so much on us. It is but expected that they should not allow taxpayers money to just go to waste. If we are gainfully employed, the effect is going to benefit so many other persons because our immediate family would benefit from us, then also, our extended family and other persons around. So if everybody is gainfully employed, I think it would go a long way to help reduce the menace of piracy at sea, armed robbery, and what have you. So, it is my advice to the government to do more to ensure that our Cabotage law is fully functional and also the companies in Nigeria and the international companies in Nigeria should try and absorb Nigerian seafarers.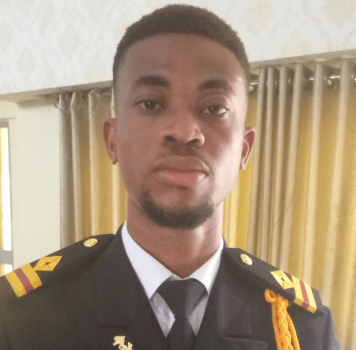 My experience has been a good one but it didn't come without its challenges. I mean every phase of the program had its peculiar challenges. The experience from the Philippines to Egypt and finally to getting my Certificate of Competency has been a rough ride. One of the major issues is the sea time experience. Sea time experience is one of the most important requirements for getting a Certificate of Competency. The new cadets going today would still undergo the sea time experience. I would advise that the agency makes provision for it. This is because it took us three years, some people, four years before they got the training, and what should have been a program of four or five years, would now be nine to 10 years. Also, the initiative is to empower the youth and develop the maritime industry workforce in Nigeria. Philippine alone has the highest supply of seafarers and they spread all over the world. At this stage where we are, having got our certificate of competency, another challenge confronting us is lack of job placement. And this is because Nigeria does not have shipping lines that can absorb the number of officers that have been trained already. Many officers have been trained already but many of them are still looking for places. A capacity building program like this should envisage the end process of not only recruiting but also assimilating. It is like a medical doctor who does not have a place to practice. After some time, the whole training would be a waste. So, as the Nigerian government and NIMASA try to empower the youths up to the level of getting the Certificate of Competency, I'll as well recommend that the program package should have a provision for a place where they would be assimilated to the whole system to be productive and be part of the mechanisms to generate revenue to the Nigerian economy. NIMASA can as well sign some memoranda with certain countries where we have been trained to allow Nigerian seafarers to gain access to job opportunities after obtaining the Certificate of Competency. Also, a compromise should be reached with local companies in Nigeria in the shipping business on how to absorb a number of the officers that are being trained. Some of them are being sent to the Philippines to obtain their Certificate of Competency, and some of them just returned from Egypt but there is no structure for all of them including some who would come back in the future to be absorbed. Myself, I just got my license this year from Egypt and I have not got a placement yet. So, this is a challenge that cadets that are inducted today might face. So, my advice is that the agency should consummate the whole process. There should be an initiative, a plan on how to absorb the trained officers to be gainfully employed and fulfill the whole aim of the program of empowering the youths.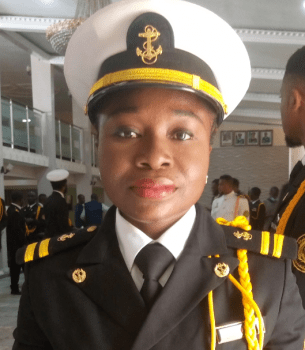 Well, the experience has been a mixture of good, bad, and ugly. Firstly, we started in 2013 in the Philippines but because of some challenges we were not able to complete the program in the Philippines, we were moved to Egypt. The challenge that we experienced and that did not make us finish in Philippines was the fact that there were no vessels to accommodate us for the most important part of the program which is the compulsory sea time experience that a cadet should undergo before becoming an officer. So, because there were no vessels in the Philippines; there was no package for it. The contract does not entail that. So, we had to be moved to Egypt to continue the program and finish there and here we are today. But before going into Egypt, we used like three to four years which ordinarily would have demoralized a lot of us because at that point, most people were not doing anything. They were jobless. And most of the things we were taught in the Philippines, some of us forgot. So when we went to Egypt, it was like we started the career afresh which was a very big challenge if you ask me. So, that's one aspect of the experience that we must talk about. And another experience was when we were onboard the vessel. Though the school tried by putting us on the vessel, however, there was no proper monitoring, no proper follow up to see if the money that was being paid equals the experience. My recommendation is that because this initiative was for youth empowerment, capacity building, and for making sure that we have competent and qualified seafarers in Nigeria, seafarers that would be able to man the vessels in Nigeria, every cadet that the government wants to take for this program should understand that sea training is a major part of this program. So, there should be a provision for it either with the academy by signing a contract that after the academic part, that the cadet should be enrolled into a vessel by the academy or possibly back here in Nigeria that every vessel that comes to Nigeria should pick at least a cadet and train them onboard their vessel. So, in doing that, we would not have a backlog of cadets waiting for sea time training.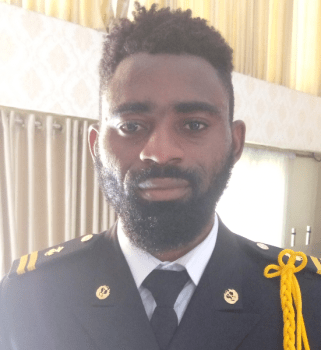 So far for me, I will say it has been a rollercoaster in a way since when we started this program back in 2013 and the whole point of the program is to empower us and to actually fit in into the Nigerian waters so that we will become professionals in the future. For me personally, I have been impacted with all the exposure and experience. The only lapse was that after finishing my basic studies from the Philippines that took me three years and coming back to wait for the sea service that is like the lowest point because it is difficult to get a placement onboard to get your sea service and it is very important because without that you can't end up becoming an officer despite the knowledge garnered in the class. It took some people four years to actually gain that part of our studies. And we still have some people who have not gained the sea time experience. My recommendation is that the government in their own way if they are taking cadets to any academy in any part of the world, they should make sure that the academy should be able to make provisions for vessels because, trust me, getting sea service is very very difficult. Also, having a license alone does not guarantee a job. So, we need specialized training to equip ourselves. Take, for instance, we have different kinds of vessels. I'm supposed to work as an officer on board a tanker vessel and now having my license does not guarantee me the job. I need to have a specialized training. This is because I'm dealing with volatile cargo. And these trainings are very expensive. We are not talking about naira here, we are talking about dollars. Once any company calls you for a job and you don't have this training, they'll just sideline you. This is one important part of this training that should be looked into. 
Copyright Ships & Ports Ltd. Permission to use quotations from this article is granted subject to appropriate credit given to www.shipsandports.com.ng as the source.