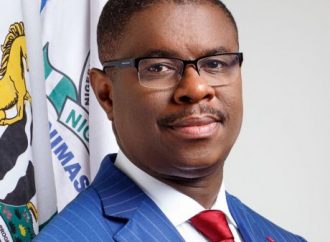 About 50 placard-carrying youths, cadets of the Nigerian Seafarers Development Programme, (NSDP) recently protested a three-year delay in obtaining mandatory sea-time training that would certify them as sailors. Sea-time training involves seafarers spending quality time on-board ocean going vessels so that they can get hands-on training instead of just learning only theories in the classroom. It is one of the preconditions for qualifying as a cadet. According to the protesters, the Nigerian Maritime Administration and Safety Agency, (NIMASA), who sponsors the NSDP, allegedly claims funds for sea training on a yearly basis from the national budget without disbursing same. One of the protesting students, Onyankeke Adarigho, said only 150 cadets had received sea time training under NIMASA's sponsorship in three years. In the meantime, NIMASA has turned down sea-time offers of over a 1000 bed spaces from different shipping companies and countries in the last one year. For these students, the aim of the NSDP, which was to bridge the gap of human capacity in the sector and provide a pool of certified seafarers has been severely defeated by their endless wait. The plight of these youths is no different from those enrolled at the Maritime Academy Oron, Cross River State, who are unable to proceed further than their first two years at the institution because their inability to fulfill the mandatory one-year sea time experience.
In 1977, the Maritime Academy of Nigeria was established under the name of Nautical College of Nigeria. Originally designed for the education and training of shipboard officers and ratings and shore-based management personnel, the initial programme of the college was a five-year Bachelor of Science degree which would lead to the award of second Mates and Second Engineer's Certificates of Competency. To this end, the academy was affiliated to the Arab Maritime Academy in Alexandria, Egypt so that cadets of the college would be allowed to sit for their 2nd Mate and 2nd Engineer's certificate of competency. Unfortunately, this lofty goal met an untimely end as the academy was unable to successfully finalise the affiliation. The B.Sc programme was later abandoned in favor of a three-year Ordinary National Diploma (OND) programme, which was years later commuted to a two-year programme. Upon completion of the latter, cadets were expected to return for a Higher National Diploma (HND), after first acquiring sea-time experience. Right up till 1995, when the Nigerian National Shipping Line (NNSL) collapsed, acquiring sea-time was no issue; students of the Maritime Academy of Nigeria (MAN) Oron were automatically enrolled at NNSL. Fulfilling these mandatory hours at sea qualifies the cadet for the seaman's Certificate of Competence (CoC), which is issued all the members of a watch, who have met the standards of competence necessary to their specific functions and level of responsibility on board. However, with NNSL's demise, mandatory sea-time and in effect, the CoC, became an elusive dream. Herein now lies the crux of the matter. As of now, Nigeria owns no commercial ocean-going vessels on which this sea-time experience can be acquired. For decades, cadets have been churned out in their thousands from the MAN Oron, armed with certificates that are almost worthless without the requisite sea experience. To address this issue, Nigeria's maritime administrator, NIMASA, in 2009 established the NSDP under the leadership of its then Director-General, Ade Dosunmu. Funded through a joint partnership of NIMASA and state governments of prospective seafarers, the NSDP was designed as an intervention to stimulate youthful interest in shipping. According to NIMASA's Director General, Dakuku Peterside, over 2,500 officers have been trained overseas by the agency at "the best maritime institutions" in Egypt, Romania, Philippines, United Kingdom and India. To offset this training, over N20 billion was spent within a space of four years (January 2011 to January 2015). In defence of the huge sum, former NIMASA DG, Patrick Akpobolokemi said, "The amount was expended on training fees, allowances, cost of laptops, books and other learning gadgets." Yet graduates of the NDSP even with their so-called international exposure are in no better condition than those of MAN Oron. In effect, the NSDP, like MAN Oron, has become another failed project. Both have failed to address the key issues of maritime human capacity development in Nigeria. Several options have over the years been proffered by maritime stakeholders to address the manpower issue. One recurring possible solution is the provision of a training vessel for Oron. For this school of thought, the academy's inability to acquire a training vessel and the attendant lack of sea-time training for cadets has robbed off negatively on the certificate issued to its graduates every year. Head of Merchant Navy Officers Association, Matthew Alalade, belongs to this school of thought. According to him, "Except training vessels are provided for these young cadets to enable them go for their sea-time, the money spent on their training, both within and outside the country, is pointless."
However, a training vessel is quite different from an ocean-going vessel. It is doubtful that in the event MAN Oron acquires such a vessel, it would venture out on international voyage. The vessel would most likely be domiciled around the academy's vicinity and all its cadets would acquire would be familiarity with the workings of a ship and its parts.
Another, but perhaps, less preferred option as it would require the collaboration of some major stakeholders affected by this problem, is a partnership with foreign flagged vessels doing business in Nigeria. It is no news that foreign flagged vessels dominate Nigeria's maritime and petroleum industry as regards the movement of crude oil and petroleum products. As Nigeria's maritime administrator, it would have been expected that NIMASA would broker some form of partnership with these foreign-flagged vessels doing business in Nigeria. Instead of taking this proactive approach, the agency chose to concern itself with only graduates of the NSDP, announcing that partnerships had been arranged on their behalf with the United Kingdom and Egypt. NIMASA's Director-General, Dr. Dakuku Peterside, in making the announcement, clearly defined the difference between cadets of the NSDP and those of MAN Oron.
"We are sending 200 of our cadets to Egypt and 89 to the United Kingdom for sea-time training on ocean going vessels. The training we provide is different from MAN Oron; they are training their cadets to man indigenous vessels. Maresk Line for instance will not employ you if you do your sea-time on local vessels," he said.
Ironically, this much touted sea-time for NSDP beneficiaries has already been dubbed a fraud by its potential beneficiaries – the frustrated graduates who have had to wait for as much as three years. NIMASA's explanation that cadets were being sent in phases because of the large number of cadets involved has not been able to convince the angry youths that the funds for their sea-time training are not siphoned into private pockets.
Although NIMASA assured that 700 cadets would enjoy this facility before the end of the year, only 239 have been lucky so far. At a time when thousands of young seamen and women who through no fault of theirs have had their hopes dashed, this discrimination by an agency as prominent as NIMASA was not only unnecessary but uncalled for. What is more important at this time, is that NIMASA steps up to the plate as maritime administrator and fashion out a workable solution which will encompass all graduates of the NSDP and over 5,500 MAN Oron graduates caught in the sea-time limbo.
NIMASA has no justification for jeopardizing the future of both NSDP and MAN Oron cadets. And there must not be discrimination in the handling of the common challenges facing both sets of graduates. As a matter of fact, the NSDP has been politicized and its execution deviated from what was planned at inception. NSDP is now viewed as a waste of government funds since its beneficiaries have to go on a waiting list for sea-time experience.
We are at the point where hard decisions must be taken concerning the future of NSDP and MAN Oron.
The huge sums of money being wasted on NSDP would have been better utilized into upgrading and providing necessary amenities at MAN Oron. It is time to end the wastage of public funds under the guise of overseas training of seafarers, who most often end up in second-rated foreign institutions and who will not get relevant sea-time experience at the end of the day.