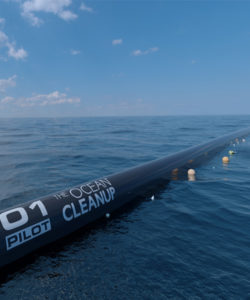 The Ocean Cleanup intends to start extracting plastic from the Great Pacific Garbage Patch within the next 12 months, with the first deployment of the new technology expected to commence in the first half of 2018.
The Dutch foundation developing advanced technologies to rid the oceans of plastic said that parts of its first cleanup system are already in production. As disclosed, the foundation has increased the efficiency of the system, allowing for the cleanup of half the Great Pacific Garbage Patch in just five years.
As informed, the main idea behind the system is to let the ocean currents do the work, with an installation of U-shaped screens channels floating plastic to a central point. The concentrated plastic can then be extracted and shipped to shore for recycling into durable products.
The improvements involve the introduction of a mobile or a drifting system. Rather than fixing the floating screens to the seabed at great depths, The Ocean Cleanup will apply sea anchors to ensure the floating screens move slower than the plastic. Rather than one massive barrier, the improved, modular cleanup system consists of a fleet of screens, according to The Ocean Cleanup.
Earlier this month, The Ocean Cleanup informed it has raised USD 21.7 million in donations since last November to start cleanup trials in the Pacific Ocean. With the funds, The Ocean Cleanup expects to accelerate production, deployment and the actual extraction of plastic from the ocean.
Speaking at the Werkspoorkathedraal in Utrecht on April 11, the Netherlands, Boyan Slat, The Ocean Cleanup's Founder and CEO, demonstrated the new technology and unveiled the first parts of the cleanup system: four 12-meter high anchor components.
"Today (May 11) is another important day in moving in that direction. The cleanup of the world's oceans is just around the corner," Boyan Slat commented.
He added that the large-scale trials of its cleanup technology in the Pacific Ocean later this year are still experimental in nature.
"Due to our attitude of 'testing to learn' until the technology is proven, I am confident that – with our expert partners – we will succeed in our mission," Slat pointed out. 
Copyright Ships & Ports Ltd. Permission to use quotations from this article is granted subject to appropriate credit given to www.shipsandports.com.ng as the source.