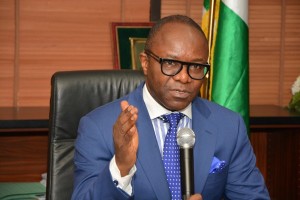 President Muhammadu Buhari has directed that the Nigerian National Petroleum Corporation (NNPC) and International Oil Companies (IOC), to release fund within a very short period for the clean-up of the Ogoni community.
The Minister of State, Petroleum Resources, Ibe Kachikwu, made this known on Wednesday in the first part of an 8-Part Series Podcast that focuses on the Niger Delta and security.
According to him, Buhari is committed to the success of the Ogoni clean up, noting that his ministry was working with the Ministry of Environment to continue the exercise.
He said, "The president is completely committed to the success of this. And we are working with the Ministry of Environment to continue the Ogoni clean-up. The President has just directed that funds necessary for this must be released within a very short period of time so that this Ogoni clean up can actually move from the drawing board to practical reality. In fact, both the oil companies and NNPC are to fund this sufficiently for us to move forward."
Kachikwu disclosed that the ministry has commenced a programme to engage Ogoni in order to secure the community buy-in and participation when there is any problem.
The plan to make communities have faith in the government, according to him, is not restricted to Ogoni.
The minister said that government is currently working on a framework for a community-based participation in oil and gas pipelines and oil and gas assets.
He said, "Following the realization from inter-agencies researches, that challenges were still lingering in the Niger Delta even as over $40 billion had been spent in the region in 15 years, the ministry is working with the Office of the Vice President, the Ministry of Niger Delta, Niger Delta Development Commission and the corporation to do more of capacity building and economic empowerment."
He said that from the reports, the ministry has seen the past expenditure and what is still available in the states of the region.
The minister said that he has set up technical committees in Edo, Delta and Imo States that are working with the governors as the chairmen to look at the volume of oil available and produced in the states, the opportunities, economic empowerment and the burning issues in the states.
The committee, which has oil companies, the ministry and government agencies as members are expected to carry out the assessment in other oil-producing states in order to develop a blueprint for engagement and intervention in the region.
He said, "If we succeed in doing that, for the first time, what we are going to have is a complete blueprint, complete local engagement, complete intervention and supervision of the Niger Delta Development module. And that is something that can be sustained for posterity."