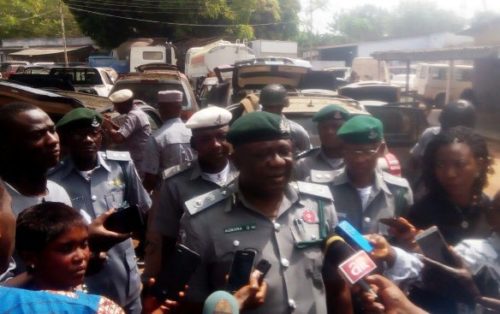 The Ogun Area 1 Command of the Nigeria Customs Service said it seized contraband goods worth over N397million in the third quarter of the year.
Controller of the command, Michael Agbara, disclosed this to newsmen during a briefing at the command headquarters in Idiroko.
He said, "It is worthy of note that the command during the third quarter of year 2020, successfully recorded 420 seizures comprising; 11,146 bags of foreign parboiled rice (50 kg each) an average of 18 trailer loads per month, 86 vehicles, 39 motorcycle (means of conveyance), 10 kegs of vegetable oil (25 liters each), 81 bales, 34 Sacks of secondhand clothing, one sack and 1,344 pairs of used shoes, 1,814 cartons of frozen poultry products.
"Other seized items included; 299,450 liters of PMS (Petrol), 127 kegs of palm oil (25 liters each), 1,225 liters of diesel, 75 liters of kerosene, 363 pack of handbags, 17 cartons body cream, 12 bags by 50kg and 4 cartons of sugar, 37 sacks comprising 190 book size, 883 wraps and coconut size packs of cannabis sativa, 213 Pieces of used tyres, 24 sacks of pesticide, 210 sacks of black soap chemical, 6 packs of Ghana Soap, 8 cartons of imported soaps, 10,775 pieces of different types of plastic rubber, 410 pieces of textile (wrapper), 172 pairs of rubber slippers, 5 Sacks of alligator pepper, 186 cartons of crocodile machetes, 72 bundles of nylon, 3 bags and one sack of snuff, one sack of ladies bra, two wraps of ladies wears, six sacks of medicament, one carton imported perfumes, and 14 bales of cut length material."