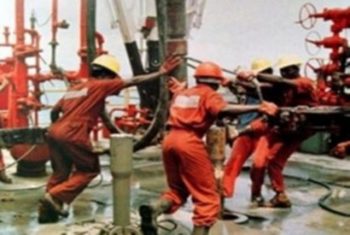 Oil fell for a second day on Thursday to hit one-month lows after an unexpected surge in U.S. inventories and the return of more Nigerian crude aggravated investor concerns about an already oversupplied market.
The oil price has slipped below $50 a barrel despite a pledge by the world's largest exporters to extend an existing output cut of 1.8 million barrels per day (bpd) into next year in an effort to reduce bulging global inventories.
Adding to concern about supply outstripping demand, Royal Dutch Shell on Wednesday lifted force majeure on exports of Nigeria's Forcados crude, bringing all the country's oil grades fully online for the first time in 16 months.
Brent crude was down 26 cents at $47.80 a barrel by 1137 GMT, having touched an earlier high of $48.60, while U.S. crude futures fell 25 cents to $45.47 a barrel.
The market has also come under pressure from news of rising output from Libya, which together with Nigeria is exempt from the production cut made by the Organization of the Petroleum Exporting Countries and its 11 partners.
"I've been quite bullish for the second half of this year, based on supply and demand balances and I would still not give up on that idea, that rebalancing is going to start in the second half," PVM Oil Associates strategist Tamas Varga said.
"But if Nigerian and Libyan production is picking up as well as they are now, then slowly, I am probably going to have to start changing my mind."
The most actively traded Brent derivatives were bearish sell options that would give the holder the right to sell at $45 and $46 a barrel between August and December.
U.S. inventories of crude oil and gasoline surprisingly rose last week as refinery runs declined and exports fell, official data showed on Wednesday.
"Unless data are released that make the latest inventory build appear an anomaly, oil prices are hardly likely to make any lasting recovery," Commerzbank said in a note.
Sentiment across the broader financial markets also remained jittery.