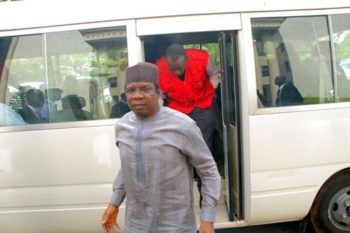 The managing director, Nigerian Petroleum Development Company Limited (NPDC), Yusufu Matashi, on Thursday told Justice Nnamdi Dimgba of the Federal High Court in Abuja that his company allocated 7,553,733 barrels of crude oil to Atlantic Energy under a Strategic Alliance Agreement, SAA.
He gave this revelation under cross-examination by Lawal Rabana, representing Jide Omokore who is facing trial alongside Victor Briggs, Abiye Membere, David Mbanefo, Atlantic Energy Brass Development Limited and Atlantic Energy Drilling Concepts Limited on a 9-count amended charge of criminal diversion of about $1.6 billion alleged to be proceeds of sale of petroleum products belonging to the federal government.
Matashi, whose evidence started on Wednesday as second prosecution witness, stated that while the total value of the transaction as at 2014 was $823,750,159, Atlantic Energy Drilling Concept Limited could not meet up with its cash call for operations and training which made NPDC, a subsidiary of Nigerian National Petroleum Corporation, (NNPC), to use funds in its account to clear outstanding payments.
Responding to further questions from A. Adegbamere and Tayo Oyetibo, representing 3rd and 4th defendants respectively, Matashi maintained that, "Atlantic Energy Brass Development Limited and Atlantic Energy Drilling Concept Limited breached the contractual agreement made with NPDC".
The two firms are linked to Omokore.
"All I have said were based on records which I believe in its truthfulness and accuracy. The SAA under review was carried out because of the success of the previous SAA and there was need to consolidate on the gains achieved earlier", said the NPDC MD.
Justice Dimgba, thereafter, adjourned to March 21, 2016 for further trial