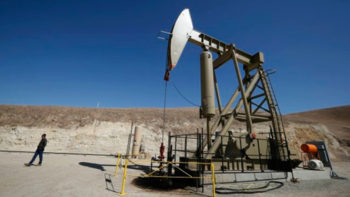 Oil prices jumped to their highest in more than two years on Tuesday after the shutdown of a North Sea pipeline knocked out significant supply from an already tightening market.
World stocks took a break from a three-day rally.
Brent crude futures, the global benchmark for oil prices, rose above $65 a barrel — their highest since mid-2015 — after Britain's Forties pipeline was shut due to cracks as a cold snap sweeps the country.
The Forties pipeline is important for the global oil market because the crude it carries normally sets the price of dated Brent, a benchmark used to price physical crude around the world and which underpins Brent futures.
The shutdown comes as oil supply cuts by the Organization of the Petroleum Exporting Countries (OPEC) have helped chip away an excess of inventories built up following a global supply glut which began to emerge in late 2014.
"Such a reaction (in prices) indicates that supply disruptions can no longer be ignored in tight markets," said Hussein Sayed, analyst at FXTM.
U.S. crude oil futures were last 0.5 percent higher at $58.30 a barrel.
Agency Report