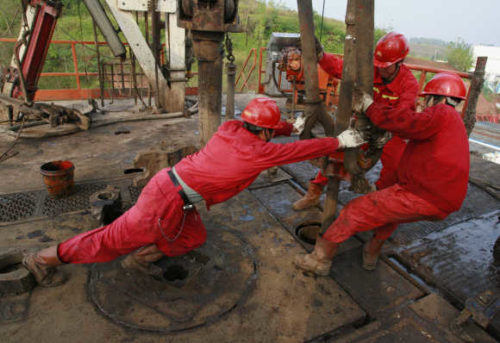 Crude oil prices on Wednesday jumped more than 1 percent as markets braced for the imposition of U.S. sanctions on Iran next week and as stock markets clawed back some of their recent losses.
Benchmark Brent crude oil was up 80 cents at $76.71 a barrel by 0840 GMT. The contract fell 1.8 percent on Tuesday, at one point touching its lowest since Aug. 24 at $75.09.
U.S. light crude was up 60 cents at $66.78. It hit a two-month low of $65.33 a barrel on Tuesday.
New U.S. sanctions on Iran begin on Nov. 4 and Washington has made it clear to Tehran's customers that it expects them to stop buying any Iranian crude oil from that date.
Imports of Iranian crude by major buyers in Asia hit a 32-month low in September, as China, South Korea and Japan sharply cut their purchases ahead of the sanctions on Tehran, government and ship-tracking data showed.
Oil market sentiment also received some support from equity markets, which pulled back from 20-month lows on Wednesday after pledges by China to support its markets.
Despite the rally on Wednesday, both crude benchmarks are around $10 below four-year highs reached on Oct. 3 and on track for their worst monthly performance since July 2016.
Oil has been caught in the global financial market slump this month, with equities under pressure from the trade war between the world's two largest economies, the United States and China.
The United States has already imposed tariffs on $250 billion worth of Chinese goods, and China has responded with retaliatory duties on $110 billion worth of U.S. goods.
In another bearish signal, the American Petroleum Institute reported U.S. crude inventories rose 5.7 million barrels last week, more than analyst forecasts of a 4.1 million barrel build.
Official U.S. government data on inventories will be published at 10:30 a.m. EDT (1430 GMT) Wednesday.