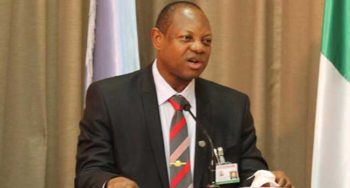 The Special Adviser to the President on Niger Delta, Brig.-Gen. Paul Boroh, has urged stakeholders from the South-South to think outside the box and find other means of economic sustenance outside oil.
Boroh, the Coordinator, Amnesty Programme for Niger Delta, gave the advice in a keynote address at a seminar organised by the Ijaw Professional Association at the Agip Recital Hall, Muson Centre, Onikan Lagos on Sunday.
The theme of the seminar was "Social Inclusion, a Strategy for Peaceful Co-Existence''.
The IPA in a non-governmental organisation is made up of groups of professionals that seek to fashion a development blueprint for the Niger Delta region.
Boroh restated that oil which had been the mainstay of Nigeria's economy deposited in the South-South region of Nigeria might soon lose its relevance in the world market.
He called for urgent diversification into the other areas of economic interest to shore up the country's revenue.
"We are getting to the point of reality which we must tell ourselves. Oil was found in the southern region of Nigeria, but for how long will we depend on it for sustenance?
"Very soon, in a space of two years, oil will lose its relevance because there are many researches going on now for a safer and better energy which has reduced the importance of oil.
"We need to wake up to the reality that Nigeria's oil economic value is fast depreciating as our biggest buyer, U.S. are not buying from us again. They now buy from India.
"Then, should we ask about what we pride in as our resources are not being appreciated again, what should we then do? The answer is to diversify and think outside the box.''
Boroh said that thinking outside the box means that the region needed to look into the sectors that were more viable economically and explore for a better future for southern Nigeria.
"The new oil in the world now is Information Technology and ICT. It is a gold mine that can provide many opportunities to our youths that still have their eyes on oil.
"We need to tap into the ICT world if we are serious about progressing in the country and in the south region. Our youths should open up to the avalanche of opportunities in ICT world.
"Another area I want to talk about is Agriculture; it is an area we should start to consider now to replace oil in our minds. Before oil, what we have been engaging in is agriculture and we need to go back.
"We need to go beyond subsistence farming to commercial farming. We have the population in terms of human capacity to feed ourselves and the world,'' he said.
Contributing, the moderator of the event, former Commissioner of Information and Communication, Dr Austin George, alluded that diversification from oil should not be lip service only but a deliberate action plan.
"We have been talking about diversification even now that the resources from oil are now dwindling. We need to implement the action plan now or never.
"What have we been doing these years when the oil was still booming? Diversification is more than a theoretical declaration; it should be an action plan which we must act on now.
"We need to diversify into ICT because it has generated a lot of opportunities. The future of our region is ICT. We need to know that.
"Now we are getting to the age of driverless cars, these cars make use of applications to operate. So, we need to come to the realisation of our potential before it's too late,'' he said.
Other discussants spoke on the need to have a deliberate plan to educate youths on how to make use of the opportunity around them.