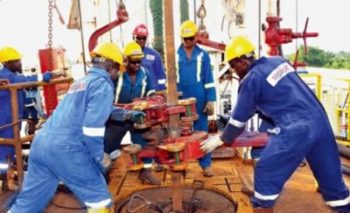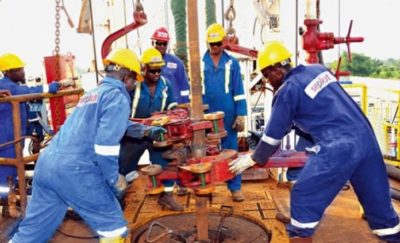 Crude oil slipped below $74 a barrel on Wednesday, pressured by an industry report that U.S. stockpiles of crude rose unexpectedly and by higher OPEC production, adding to indications of more ample supply.
The American Petroleum Institute on Tuesday said crude inventories rose by 5.6 million barrels last week. Analysts had expected a decrease of 2.8 million. The U.S. government's supply report is due on Wednesday.
Brent crude, the global benchmark, dropped $1.17 to $73.04 a barrel by 1153 GMT, having fallen as low as $72.97. U.S. crude was down 88 cents at $67.88.
"A fresh dose of price angst has come from an unexpected source," said Stephen Brennock of oil broker PVM. "The U.S. has been flying the flag for the draw-down in global oil stockpiles, yet the re-balancing paused abruptly last week," he said, referring to the API report.
Last month, Brent fell more than 6 percent and U.S. crude slumped about 7 percent, the biggest monthly declines for both benchmarks since July 2016.
Oil also slipped on more ample supplies.
The Organization of the Petroleum Exporting Countries, plus Russia and other allies, decided in June to ease supply cuts that had been in place since 2017 after a glut was cleared.
OPEC production rose in June, led by Saudi Arabia, and reached a 2018 high in July, a Reuters survey found on Monday, although declines from Iran, facing U.S. sanctions, and other producers limited the increase.
Kuwait confirmed on Wednesday it had increased production in July. Output is currently 2.8 million barrels per day, its oil minister said, an increase of 100,000 bpd from June's average.
Signs that a supply disruption in the Bab al-Mandeb Strait in the Red Sea could be resolved also weighed on prices.
Yemen's Houthi group said it was ready to halt attacks in the Red Sea to support peace efforts. Saudi Arabia had suspended oil shipments through the strait last week after attacks on tankers.
Concern over slowing economic growth because of a trade dispute between the United States and China is also putting downward pressure on the market.
"Ratcheting up of trade tensions between the U.S. and China has brought oil prices under significant selling pressure," said Abhishek Kumar, senior energy analyst at Interfax Energy. "Market participants are awaiting additional tariffs by the U.S. on the next tranche of imported goods from China."
Agency Report