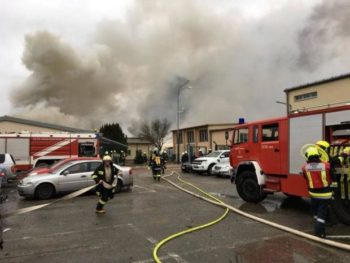 A large explosion rocked one of Europe's biggest gas pipeline hubs in Austria on Tuesday, leaving one person dead and 18 injured, emergency services said.
"An explosion occurred at 8:45 am (0745 GMT), followed by a fire," Police Spokesman, Edmund Tragschitz told AFP.
He later put the number of people hurt, including one seriously as well as those with minor injuries, at around 60.
But Red Cross spokeswoman Sonja Kellner told the Austria Press Agency that one person had been killed and 18 were injured, one of them seriously who has since been airlifted to hospital in Vienna.
"I heard a huge explosion and thought at first it was a plane crash," photographer Thomas Hulik, a resident of a nearby village in Slovakia, told AFP.
"Then I saw an immense ball of flame," he said.
A spokesman for the site's operator Gas Connect Austria, Armin Teichert, said that the site had been evacuated and that the facility had been put into "security mode".
The material damage is "major" Teichert told AFP.
Police said on social media that people should avoid the area.
Media reports said that more than 200 fire fighters from several brigades in the surrounding area were called in to help, as well as a number of air ambulances.
Lower Austria state police said on Twitter that the situation was "under control".
"Fire services are currently engaged in putting out the fire following the explosion. Emergency services are treating the wounded," the statement said.
An AFP journalist nearby said that by late morning the flames had been extinguished but there was still a huge cloud of smoke over the site.
Other photos showed the heat from the blast was so extreme that cars parked at the site partially melted.
Police added that the cause of the incident was a "technical" one and the local authorities had begun an investigation.
The Baumgarten site is Austria's largest reception point for gas, the end-point for a number of pipelines bringing it in from Russia, Norway and elsewhere.
It receives some 40 billion cubic metres of gas annually and redistributes it elsewhere in Europe including to Germany and northern Italy.
Teichert, the Gas Connect Austria spokesman, said that there could be interruptions in supply to Italy and Croatia, but not to elsewhere.
Russian gas giant Gazprom, which relies on the Baumgarten site to send gas to clients around Europe said in a statement that it was aware of the incident.
"Currently the company is working on redistribution of gas flows and (doing) its best to secure uninterrupted gas supplies to the clients on this transport direction," Gazprom said.   
Copyright Ships & Ports Ltd. Permission to use quotations from this article is granted subject to appropriate credit given to www.shipsandports.com.ng as the source.