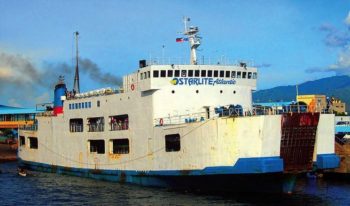 A major search and rescue is underway in the Philippines for 18 people reported missing after the car and passenger ferry Starlite Atlantic sank during the height of Typhoon Nock-Ten (Nina) on Monday.
A statement from the ferry's operater, Starlite Ferries, Inc., said the Starlite Atlantic sank Monday morning between Puerto Galera on the island of Mindoro and Maricaban Island after being buffeted by gale-force winds and large waves. Fifteen crew members were rescued on Monday, but a search continues for 18 crew still missing. Starlite said initially that 19 were missing, but one fatality has been confirmed so far.
There were no passengers or cargo on board the ferry at the time of the incident as the vessel was sheltered in preparation for the powerful typhoon.
The search has involved air and sea assets from the Philippines Coast Guard, the Philippines Maritime Industry Authority, tugboats and good samaritan vessels, among other agencies.
Three liferafts believed to be from the vessel were found on a nearby island and a tugboat was headed to the area to confirm, Starlite Ferries said Tuesday. Empty lifejackets have also been found, the company said.
"Starlite Ferries, Inc. is exerting all efforts to rescue the remaining 18 missing crew member of MV Starlite Atlantic with the help of PCG, PAF, PN, Philippine National Red Cross and other volunteers and agencies. Search composde of Air, Sea and Land units has been extended up to the adjacent provinces for possible whereabouts of survivors. Diving team will be also dispatched to locate the wreck. As of the moment, we need your prayers for the safety of the remaining missing crew member," Starlite said Tuesday on its facebook page.
The search was temporarily suspended Tuesday at 8 p.m. due to zero visibility, but is expected to resume Wednesday morning.
Copyright Ships & Ports Ltd. Permission to use quotations from this article is granted subject to appropriate credit given to www.shipsandports.com.ng as the source.