By Foster Obi
As Hameed Ali marks one year in office as Comptroller General of Nigeria Customs (CGC), there are mixed reactions over his performance within this period. While some thinks he had performed very low, others believed he has tried, while some argue that he does not merit being the CGC in the first place.
Ali's mandate and mission
When he was named for the position on August 27, 2015 by President MuhammaduBuhari, it took him some time to publicly accept the job and this gave room for all kinds of rumours with some reports saying he rejected it because he considered it infradig. By the time he resumed, the rumour mills had gone full cycle.
Before he came on the saddle, he had cut the image of a no nonsense he man. Ali, a retired military Colonel who holds Bachelors and Masters degrees in Criminology was Military Administrator of Kaduna State  from August 1996 to August 1998 during the regime of late General SaniAbacha. One year after as governor,precisely in October 1997, he sacked about 30,000 striking civil servants in Kaduna State, and detained 18 local government chairmen. A journalist who reported the sacking was allegedly arrested, severely beaten, then taken to the Government House and further tortured. The story carried by then Tempo Magazine with the headline "Goodbye Justice," was later proven to be false. But he was already cast in thatmould.
For long, the Nigerian Customs has had this very negative perception by stakeholders as a very corrupt entity. Importers and freight forwarders who work directly with Customs believe that the Customs staff orchestrate or facilitate most corrupt practices in cargo clearing either directly or indirectly.  So the coming of Ali to head the organisation was bad news to many officers who would have preferred somebody from the inside.
But Ali feeling the mood of the moment alerted the rank and file while addressing stakeholders at his maiden working visit to the Apapa Area Command in Lagos that, the days of corruption were gone for good.  He told them that "anybody caught shall not be left to go scot-free,'' adding, "I am a stickler for the enforcement of the law."
"There is need for law and order, and it is important to follow the rules as they are so that we all do not have problems.'' He also notified them that henceforth no officer shall stay more than three years on a particular position. He promised that postings will be carried out twice a year in various commands and any officer that have stayed more than three years on particular position will soon be posted out. He also warned his men that Customs will no longer tolerate a situation where a Custom officer will transmute into a Clearing agent. He warned that officers running clearing licenses, aiding and abetting corruption under valuation and concealments are liable to ten years imprisonment.
That was not just the riot act. Ali gave directive to all officers and men of the Nigeria Customs to declare their assets within 14 days and this raised a lot of apprehension among officers as them, knowing the anti-corruption stance of the Buhari led administration to the intent that anyone implicated to have corruptly enriched himself, will be in trouble ran helter-skelter to meet the deadline.
Waging war against corrupt officers
News filtered that some 400 officers were to face demotion as a result of irregular self-promotion. Analysts hailed the move as only a retired military officer, who has no link with the Customs establishment, could deal with such official irregularity.
Ali had earlier sacked some 35 top officers at once and this did not raise dust because of the public perception of deep seated corruption in the Service.
Customs spokesman, Wale Adeniyi, said the affected officers included five deputy comptrollers-general; three assistant comptrollers-general and several comptrollers serving in NCS headquarters, zonal offices and various area commands. The sack of all senior officers of a particular rank at the same time was unprecedented in the service.
Since assuming office, Ali has visited different formations of the NCS. He has paid visit to the NCS formations in Lagos and its environs. While addressing men and officers of NCS in Sokoto/Zamfara/Kebbi Area Command, he warned that any customs officer caught involved in any corrupt practice risked 10 years in jail. He gave the same warning in Lagos.
According to him, the minimum jail term for corrupt officers is five years but he said he would make sure that any officer found to be corrupt gets the maximum jail term of 10 years to serve as deterrent to officers who believe they are in Customs to make money and not to earn money. He, however, acknowledged that there are good, incorruptible officers in the service, but a few bad eggs, who are giving the service bad name. He cautioned the officers to be disciplined and not to live above their means.
While advising the men and officers of NCS to make integrity, honesty and transparency their watchwords, he said, "Our work ethics must change to be in tune with the change mantra as championed by President MuhammaduBuhari; you should do this to minimize the chances of getting into trouble, except those who are criminally minded."
Ali promised to fulfil the mission given to him by President Buhari. He said his mandate is to reform the service, raise revenue and improve welfare of the personnel. He warned against unnecessary delays of documents except in cases where fault were found in wrong declaration.
Some Nigerians requested that the exercise should be a continuous one. Again, only an outsider was considered capable of going this far in 'almighty Customs' said a port user. "The purge could not have been possible if the Comptroller-General was from the ranks of the Customs. A Customs head would have papered over the issues to avoid stepping on toes', argued an analyst. Since then Ali, had remained in the minds of the people as someone with seemingly strong anti-corruption disposition even as they continue to watch his actions and utterances.
Parley with manufacturers and low cargo volume
Beyond the anti-corruption war, the question is how has the NCS faired since he came on board. It is an open secret that since he started heading the Customs, revenue has nosedived causing people to ask all manner of questions. The Comptroller-General himself declared that the Service had a revenue shortfall of N230 billion in the last quarter of 2015.
At a Consultative Forum between Customs and the Manufacturers Association of Nigeria (MAN) held at the Customs Training School, Ikeja, Lagos, the CG attributed the shortfall to the Central Bank of Nigeria's (CBN)restrictive policies on foreign exchange, and noted that the Service pleaded for sympathetic consideration by the CBN to review the policies.
But he noted that "Customs had made progress in getting the necessary approval for clearance of a huge backlog of imports imports in respect of which forms `M' were opened before the commencement of the CBN foreign exchange restriction of some imported items.Importers of such goods could not finalise Customs clearance due to inability to obtain the Pre-Arrival Assessment Report (PAAR).
"Relief has come for such importers as we (Customs) have secured the go- ahead to waive the formalities and allow them to pay duty,'' he declared.
Ali also said that NCS had re-organised the Dispute Resolution Units and designated experienced comptrollers to head the units for quick resolution of disputes.
He said that all disputes arising from valuation and classification were now referred to the units for resolution.
He said he had been receiving complaints about rates of duty and documentation processes which differed from one port to the other, adding that there was also the issue of different rates among terminals in the same port.
He maintained that emphasis would be laid on professionalising Customs' jobs, and that the vision of the management was to build a pool of highly-skilled specialists in core areas like Valuation, Classification, Rules of Origin, Excise, Enforcement, Customs IT and Investigation.
The CG said that the activities of MAN could not be over-emphasised and that collaboration with the Organised Private Sector (OPS) like MAN would be an important pillar of Customs administration.
"We will therefore appreciate your feedback on our performances and government policies.
"We (Customs) encourage MAN to express its concerns about policy formulation and implementation. We assure you that under my watch, such contributions will form valuable inputs to our periodic reviews aimed at fine-tuning such policies for better result.
"I started operations last year. I am aware of strategic importance of Zone "A'' to customs' overall operations will not remain the Comptroller-General of Abuja. I will be showing more presence in Lagos and the zones,'' he said.
Ali urged manufacturers who were having challenges in clearing their consignments before he assumed office, to lodge their complaints genuinely so that customs would handle such complaints.
He also advised members of MAN to inform the service earlier on issues concerning documentation before arrival of their consignments for quick clearance. He also urged manufacturers who sought refund of charges which had accumulated on their duties in the last few years to be rest assured that it would be looked into.
He urged members of MAN to assist the NCS on intelligence information gathering to reduce smuggling of products and encourage genuine importers and exporters.
But how do stakeholders feel about Ali's performance after one year in office.  SHIPS & PORTS DAILY went to town to seek the opinion of port users.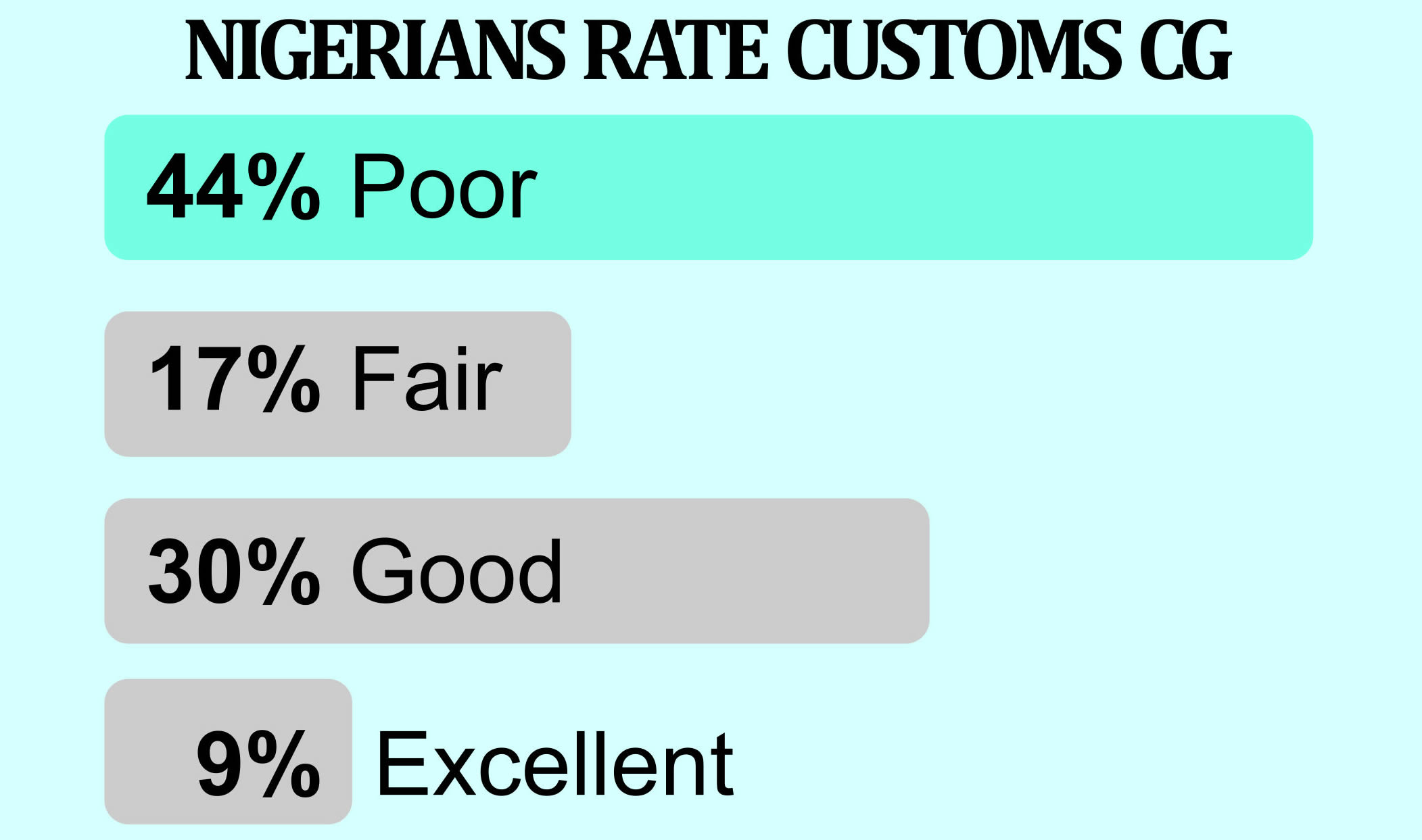 Assessment by Custom officers/Stakeholders
No Custom officer was willingly to talk about the CG openly for fear they may be smoked and booted out. Some officers, who called the reporter aside to speak, said the man is learning but is a complete novice in Customs operations. They believe he has what it takes to reposition the Customs. Some however believes he is not qualified to assume that seat while some said he has some tribal tendencies which could taint his performance as time goes on.
Some port users were also not willing to comment on the CG's performance. One of them who refused his name on print told SHIPS & PORTS DAILY' "What is the big deal about the CG. He was put there as a stooge by Buhari, his master. I hope you know he was his chief of staff, so why are they deceiving us. The man knows no jack about customs and no matter his threats these officers will turn him round and steal under his nose. Is it not Customs, if you ask me, the Service has become ten times more corrupt since he became CG. You either take it or leave it,'' he snapped.There were some who said he would end up like other CG's when he start seeing money.
But Reverend Emma Agubanze, Lilypond Chapter Chairman, NAGAFF lambasted the CG, describing him as a non-performer. "The appointment of the CG is a very wrong decision by the government of Nigeria. The Customs is a purely professional body. The government had spent so much in giving them specialised trainings both in Nigeria and abroad.  But when you have a retired military man heading such a body, it is a slap on the profession. It is a vote of no confidence on a group of officers that the government had spent so much in trainings. The foundation is faulty
"The CGC came with a mandate to reform, restructure and increase revenue. You need a man who understands the Customs to enhance revenue. You need someone who understands the workings aspect of valuation, classification and things like that to generate revenue. He does not have it. We have not seen any reform in Customs either. He said some officers that stayed more than three years on a post will be redeployed but there are some that have stayed seven, eight years on a particular position and they are still there."  He called the CGC to resign as "the Customs he met is worse than the Customs we have now."
Chidebere Enelamah Acting President of NAGAFF and BOT Chairman said that since the CG assumed office, volume of trade has gone down completely not because people are not willingly to import consignments but because of the stringent policy measures on importation guideline.
"It means that revenue has gone down. As at today (last Thursday), naira is exchanging N402 per dollar. While the federal government allowed pilgrims access dollar at N197 per dollar, importers access forex at the prevailing exchange rate and this has actually affected revenue generation. In that regard he has not fared well but that is not his own making because there is really nothing he can do about it."
He however pointed out that administratively, Ali has been able to bring the Customs leadership together and that he has done well.
Barrister Fred Akokhia, Legal Adviser, also of NAGAFF,  did his assessment based on the scope of the CG's assignment involving reform, increased revenue and economic trade facilitation. In terms of reform he said Ali put in place a new management team which he felt he could work with and in that area he did well.
In the case of revenue he said "revenue is a function of cargo throughput and prevailing economic situation. Importers have not been able to bring in imports. In this area I will say he has performed low compared his predecessors." But he noted that the CG is not expected to perform magic in this area because he is not in total control of the situation.
"In the area of trade facilitation he has not done well. There are many policies that government has put under him that is anti-trade like the case of FOU'A stopping properly exited containers by duly certified custom officers along the expressway," he said adding "this is anti-trade.
Elder DonatusOfoma, National Welfare Officer faulted the CG's performance in the area of engaging stakeholders since he assumed office. Although he has been coming to Lagos, he said he has not found time to parley with stakeholders and noted that this is a missing link as he needs to work hand in hand with stakeholders in the industry if he must succeed in his assignment.
The Association Nigerian Licensed Customs Agents (ANCLA) told SHIPS&PORTS DAILY as at press time that they will still come up with their own assessment but were presently engaged at the CEMA review taking place in Kano.
While speaking to stakeholders in maritime industry on CG's one year in office, the issue of his qualification kept recurring. Some referred SHIPS & PORTS DAILY to earlier suits challenging his appointment. Recall that an Enugu-based activist, Ifeanyichukwu Okonkwo last year filed a suit at the Federal High Court Umuahia, Abia state challenging the constitutionality of the appointment of Ali as the CGC by President Muhammadu Buhari.
Okonkwo's suit came few days after Marcel Dim-Udebuani, a lawyer who hails from Nnewi North Local Government Area of Anambra State, filed a suit no FHC/ABJ/CS/732/2015, before an Abuja Federal High Court, accusing Buhari of allegedly breaching Nigeria's federal character principle in his appointment of persons into key positions under his administration.
The days to come will definitely reveal the winning side on this seemingly evolving controversy.
Copyright Ships & Ports Ltd. Permission to use quotations from this article is granted subject to appropriate credit given to www.shipsandports.com.ng as the source.