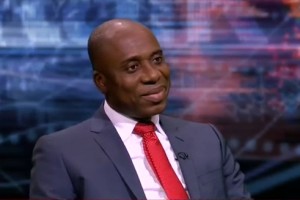 With Rotimi Amaechi hitting one year in office as the Minister of Transportation, stakeholders and investors in maritime subsector have expressed their confidence in the minister's policy direction, especially in port railway and his commitment to building the national sea carrier.
Amaechi emerged one of Nigeria's two super ministers under the President Muhammadu Buhari administration alongside former Governor of Lagos State, Babatunde Fashola, both having the largest ministerial portfolios since the beginning of the fourth republic.
Amaechi was appointed Minister of Transportation on November 11, 2015 to oversee what were hitherto two ministries—Ministry of Transportation and Ministry of Aviation, with Senator Hadi Sirika as minister of state.
Speaking with SHIPS & PORTS DAILY, the managing director of Fidedat International Nigeria Limited, a logistics and shipping consultancy,
Amobi Osuizugbe said the minster has displayed an uncommon zeal and he shows to be very passionate about growing the shipping and transport industry, urging investors in the industry to take advantage of the ministers sense of commitment. He described Amaechi as somebody, who has come (to the transport sector) to leave the place much better than he met it."
He said, "For this one year, he has actually touched the sectors. He has tried to kick-start several programmes. We know what is happening in the rail system today; they are opening up—Abuja to Kaduna, trying to pilot most of cargo movement by rail; he's very much interested in the intermodal system for the country, hooking up the ports to the rail system. Now, of course he is also working in the aviation, pushing the players and telling them look, for us to get our aviation working.
"In the seminars we have had, we also heard him looking for a way to ginger up those in the shipping industry to actually have a huge chunk of participation in the lifting of Nigerian cargo. So, these are all interesting and it is about being zealous to deliver and he was even saying there will be a big movement of cargo from China of rail and he would prefer Nigerians who have vessels to handle all these things. These are all very good stimulation for the transport sector."
He however pointed out that one year would be too short a period to rate a minister's performance.
"For the fact that he is just there for one year and he happened to have shown much determination for a better transport sector, I think it is too immature for anybody to start judging him, but for me as somebody who has been in the industry for some decades, he is the only minister in that industry that has shown so much zeal and passion that is quite motivating. He has been two-time speaker of a state house, two-time governor, former chairman of the speakers' forum and former chairman of governors forum. From what he did in Port Harcourt, I think he is somebody who is more an action person than a speech person," Osuizugbe noted.
For the President of Ship Owners Association of Nigeria (SOAN) Engr Greg Ogbeifun, Amaechi "has performed excellently in all areas."
Ogbeifun who is the CEO of Starz Group, a leading investor in indigenous shipping and marine services said the minister has shown the most understanding of the importance of engaging and working with stakeholders.
"He has proven to be a visionary leader and is determined to bring about the much desired growth and development in the maritime sector. Our prayer is that Agencies under his ministry will similarly toe the line of stakeholder engagements so that his lofty ideas and objectives can be attained," said Ogbeifun who is a member of the implementation committee for the planned national carrier.
According to the Executive Secretary of the Nigerian Shippers' Council, Hassan Bello, the minister is focused on the contribution of the industry to the economy. Bello alluded that Amaechi is anxious to develop and sustain standards applicable internationally, but noted that the minister needs to evolve synergy among agencies in the maritime subsector.
"He is unobtrusive in supervision of agencies seldom to criticize but quick to encourage He however need to encourage synergy among agencies," he said.