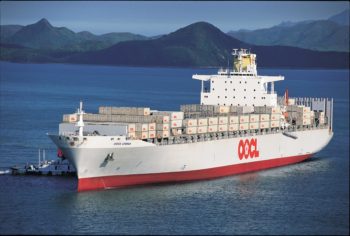 Alliances for Hong Kong-based container line Orient Overseas Container Lines (OOCL) are a double positive, helping to not only provide scale but also increase efficiencies.
In fact the company is so upbeat about alliances that it even prompted cfo of OOCL parent company Orient Overseas (International) Ltd (OOIL) Alan Tung to state that he does "look forward to 2017 because of this".
OOCL is one of the founding members of the four-member Ocean Alliance, which arose out of the G6 alliance and groups it with the third, fourth and fifth largest lines. The new grouping will have 350 ships and 40 loops when it begins operations in April.
While the cfo acknowledged that consolidation in the form of M&As as well as alliances will continue, he reiterated that although "scale is important, it's not everything". The new alliance is expected to bring OOCL faster transit times, competitive sailing frequencies, the most extensive port coverage, an attractive selection of frequent departures and direct calls, one of the youngest and most fuel-efficient fleets and efficient and reliable services, OOCL said.
As a positive for the lines, the reduced number of carriers is also expected to bring less industry fragmentation and better pricing power for all the players.
Citing Alphaliner figures, OOCL showed that it will have the highest share of capacity on the Far East-North America trade and second highest by just a small margin on the Asia-Europe trade. It will also have the most number of vessels in the 10,000 teu to 18,000 teu range and will be just slightly behind 2M in the ultra large 18,000 teu to 21,000 teu segment.
Further figures from SeaIntel also show that it has the highest number of fastest transit times per route on both the Far East to US East and West coast as well as Asia-Europe trade lanes. And it also beats the 2M alliance in terms of the number of port pairs on both the transpacific and Asia-Mediterranean lanes while being only slightly behind in the Asia-Europe trade.
OOIL chairman CC Tung concluded: "We are delighted to be forming the Ocean Alliance with Cosco, CMA CGM and Evergreen… Working together with these sizeable and like-minded partners will enable us to continue to offer the highest standards in the most cost-effective manner. Moreover, the Ocean Alliance enables OOCL to grow its business in a considered and measured way."