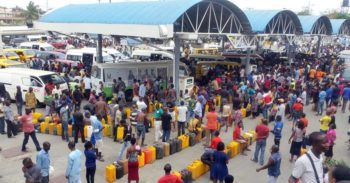 A former secretary of the National Democratic Coalition (NADECO), Ayo Opadokun, has decried the current fuel scarcity in the country and blamed it on over dependence on importation of petrol.
Opadokun made this observation in Offa, Offa local government area of Kwara state at a colloquium organised by the Galaxy Clique in honour of late Josiah Olawoyin on Tuesday.
He suggested outright ban on importation of fuel into the country to put an end to perennial fuel crisis in the country.
According to him, "I must confess to you, I am extremely sad, weakened but I know it to be a cumulative effect of the prolonged misrule of the military over Nigeria. When Buhari was there as the military Head of State, the refineries that were built none has been added to it since the one he built. The population was not as large as this; the vehicular movement was not as large and wide as this. Since then what has happened, those who took over from him had totally ravaged Nigeria. What they needed do, they did not do. How on earth will a sane people in government construct the policy on home construction of domestic fuel on importation?
"I was part of the Nigeria Labour Congress (NLC) team that did sufficient research, we went abroad to Libya, Egypt, Saudi Arabia, UAE, Venezuala to find out how much it costs to mine one litre of crude oil. Nigeria's own is the most costly in the world and then what are they doing now? 
"Each time, the independent marketers go ahead to buy at world market so Nigerians are subjected to the vagaries of world market crude oil prices. What has happened in the last three, four months, is that because the government was not willing to add more money to their profit, they said they will not import.
"So the NNPC has been importing the totality of fuel being used in Nigeria. But because we have been used to a system where fuel tanks are being built by independent marketers, they made that unavailable and impossible for the distribution to go seamless. That is the cause of the crisis.
"The solution I thought it should have happened 20 years ago, that Nigeria ought not to be importing fuel. Everything must be done to change that fuel importation. It is a show of shame by the successive people in governance that we are still importing fuel."
Chairman of Galaxy Clique, Offa, Muideen Ibrahim said, "It is a shame, sad and disheartening that a country that is producing oil and is the one of the largest producers in the world, cannot get oil. The timing of the fuel crisis is what really saddens me. Many people could not come for Christmas, even those of us who came from Lagos; we bought fuel at the rate of N400, and N500 per litre. It is not a good omen at this point in time, during festive period that there will be fuel crisis.
"It is shameful that we are still importing fuel. What they need to do is to get it right. The turnaround maintenance on the refineries should be genuine and not cosmetic approach. We cannot continue to wait until Dangote does its own in 2019. Don't forget that, that one is purely commercial oriented. I think government should do something as a matter of utmost urgency to turn around the refineries and ensure that fuel is made available to everybody so that Nigerians can be happy."