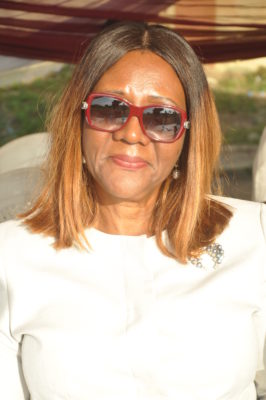 The former Chairman of Nigeria Fishing Trawler Owners Association (NIFTOA), Mrs. Margret Onyema-Orakwusi, has frowned at the continued trend in poaching and illegal fishing by foreign vessels, saying that there is an international conspiracy to remain silent on the unregulated activities of poachers on Africa's seas and oceans.  
Orakwusi was speaking while delivering a paper on "Africa's Blue Economy – Innovation, Sustainability and Diversity" at the Lagos International Maritime Week on Tuesday.
She said Nigeria and other African countries are losing billions of dollars annually as well as employment opportunities to fish poaching by foreign vessels.
"While we are still thinking of how to tap our ocean resources, some countries are coming in here and poaching our resources. That cannot continue because we are losing tens of billions of dollars annually.
"We all know that bigger vessels come from all these world powers to poach on our resources and we may not be able to arrest them. The poachers have nothing at stake, they come to our waters, and they don't care about the depletion of your natural resources.  
"They come and fish in the most irregular and undocumented irresponsible manner and this has to stop. But there is a conspiracy, as far as I am concern, by the whole world especially Europe, America and Asia. For example, if you are trawling in Africa, for you to be able to sell one or two kilogram of your product anywhere in Europe, you must show you comply with international regulations of fishing in a responsible manner and approval given to export to Europe. The big question begging for answer is: where do these big countries find the market to sell the product they have stolen from our ocean?  That is why I believe there is an international conspiracy against us in Africa," Orakwusi, who is also a board member of the Nigerian Shippers' Council (NSC), said.
Orakwusi, while calling on the United Nations to prevail on the foreign countries to stop poaching on African waters, lamented that the law guiding fishery in many Africa countries are not well enforced.
She advocated the need to have a close season regime in fishing activities, whereby a specific period of the year is closed to local trawling operations as part of effort to preserve the country's resources in the ocean.
"I don't even think if African countries come together, they can muzzle up enough power to really confront them because security is not cheap. So we need to bring it to the United Nations' attention that they are aiding and abetting the stealing and depleting of our resources. We all belong to the United Nations, so what we will continue to do is to appeal to them to stop and capture all this illicit routes of doing business and stealing our resources.
"We have no reason not to have a close period because that is what is happening all over the world. Our neighbours have close periods and we don't even have the strength to stop poaching in our waters. So it is a free for all in our domain, when others have their own close season. Our fisheries laws have not taken that into consideration. I want to use this opportunity to ask relevant authorities to introduce this close season regime so that we can preserve our natural resources and common wealth in the ocean," she said.