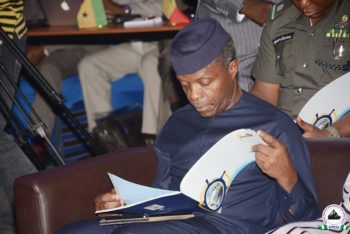 Vice President Yemi Osinbajo has disclosed that Nigeria will seek election into the council seat of the International Maritime Organisation (IMO).
Speaking while declaring open the African Maritime Administrators Association (AMAA) conference in Abuja this morning, the Vice President said Nigeria, is more than ever before, determined to play a significant role on the global maritime stage.
He also said that the Federal Government is taking steps to address the challenges of piracy in the Niger Delta, which is part of the Gulf of Guinea.
Towards this end, Osinbajo said the government has approved a new maritime architecture spearheaded by the Nigerian Maritime Administration and Safety Agency (NIMASA) to tackle militancy and piracy in the region.