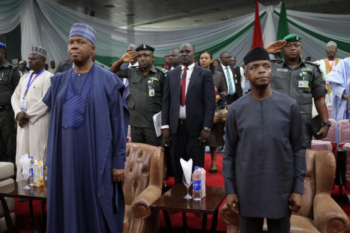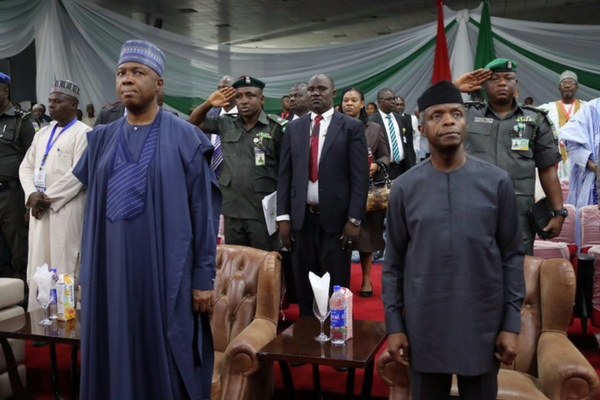 By Omotilewa Quadri 
Vice  President Yemi Osinbajo has threw his weight behind the creation of state of Police, saying state and community police is the way to go.
Speaking on Thursday at the National Security Summit organized by the Senate, he said there was no how the current police structure in the country can effectively police the country.
The Vice President who spoke for about 30 minutes said the current number of the police in the country should be tripled.
He stressed the need for the country to step up collaboration with neighbouring countries.
Osinbajo also cautioned various stakeholders in the country not to allow the present insecurity challenge assume religious dimension.
Also, the Senate president, Bukola Saraki said, "The sharp increase in murderous violence, over and above the relatively manageable level of insecurity that has plagued our country for some time, jolted us out any last vestiges of complacency or denial.
"There can be no denying the horrific reality in many parts of our country today. People who should be neighbours are turning on one another and taking up arms. These attacks and reprisal attacks are an intolerable cycle of hell that must be broken. Killings, kidnappings, mayhem and general lawlessness cannot be the new normal. We must take this country back and restore order," he said.
In his address, the Senate Leader, Ahmad Lawan said the Summit was parts of the contribution of the Senate to find answers to the security challenges facing the country.    
Copyright Ships & Ports Ltd. Permission to use quotations from this article is granted subject to appropriate credit given to www.shipsandports.com.ng as the source.