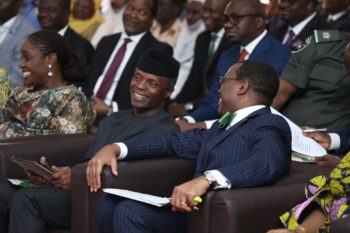 Vice President Yemi Osinbajo on Thursday commissioned the Country Office of the African Development Bank (AfDB) in Abuja and praised the banks $6 billion portfolio in Nigeria which he said has enhanced job creation.
The Vice President said he was particularly delighted that the bank was working closely with the administration in addressing the challenges of the people emerging from an insurgency in the North East and militancy in the Niger Delta.
According to Osinbajo, the Bank's portfolio was spread across 73 projects across the country.
"The Bank's inclusive basic delivery and livelihood empowerment integrated programme aimed at addressing the challenges in the North East, in particular, is commendable.
"The project will support youth, women and IDPs who have returned to their communities.
"An estimated population of more than 10 million affected people are expected to directly benefit from this project.
"More specifically, I thank the President and Board of the AfDB for their support to Nigeria at a very difficult time, during the 2015/2016 economic recession.
"When we requested support from the bank, the response was swift; the Bank approved the budget support loan of $1 billion in Nov. 2016.
"The first tranche of $600 million has been fully disbursed and utilized and in my discussions with the President of the bank, we will be getting the remainder in form of sector loans.
"So we are looking forward to the remaining $400m.''
Osinbajo said that as the people celebrated the inauguration of the bank's world-class edifice he would reiterate the commitment of the Buhari administration to the bank's strategy in Nigeria.
He congratulated the management, Board of AfDB and their staff members for making the completion of the office a reality.