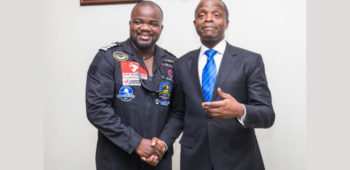 Vice-President Yemi Osinbajo, receiving Africa's first pilot to fly solo around the world, hailed the talent and resilience of Nigerians wherever they are.
He noted that "the country is blessed with great talents and Nigerians are among some of the most creative and smartest persons around the world."
The Vice President made the remark when he received on a courtesy visit to the Presidential Villa, Capt. Lola Odujinrin, the first African to fly round the world as a solo pilot.
Osinbajo says, "Your story is really fascinating and I am extremely proud of what you have done and more that you are a Nigerian and I am very sure that just as we took over the entertainment industry, we will certainly break new grounds."
The Vice President who was full of praises for the young pilot and his team's achievements said "this is the sort of things that people should hear especially young people. It is really inspiring and younger people must begin to learn from your experience and story, and am glad that you achieved this feat.
"Also, the team is entirely Nigerian and that by itself is certainly a good thing and I am sure this portends even greater things for us in the future," he submitted.
Prof. Osinbajo said that he looked forward to supporting the pilot's humanitarian project, but advised that it must be on a scale that is expandable.
Capt. Odujinrin said his goal was to put Nigeria on the world map by being the first African to "go round the world as a solo pilot and achieve that humanitarian aspect of his dream."
In his brief narration about his world flying project, Odujinrin said it was first inspired by his dream to fly aircraft at the age of 10, stating that "it is important to share my story in order to inspire kids, adults and everyone about the struggles I went through in life".
Capt. Lola Odujinrin flew many hours to 25 countries and made 35 stops in nine months, making him the first African to attain the feat.
Copyright Ships & Ports Ltd. Permission to use quotations from this article is granted subject to appropriate credit given to www.shipsandports.com.ng as the source.